Hello, Hornet and Daytona
With the Challenger and Charger pulling out of the Dodge lineup after the 2023 model year, Dodge is claiming performance made them do it. We at Landers Chrysler Dodge Jeep Ram of Norman, Oklahoma want to take a moment to see how the 2023 Dodge Hornet PHEV and the Dodge Charger Daytona BEV Concept are set to perform. Keep reading for more on Dodge's electrified plans. 
Stay up-to-date on all CDJR electric plans. 
2023 Dodge Hornet 
The 2023 Dodge Hornet was announced during Speed Week 2022, three days of exciting announcements in August following the adrenaline rush that was Roadkill Nights 2022. The reveal was another stop on Dodge's 24 Months of Muscle, too. Dodge has been teasing an electric muscle car for over a year at this point, aiming for 500 miles of driving range on a single charge while simultaneously being kinder to the planet and tougher on the streets. The two are not mutually exclusive. You can read more about Dodge's initial electric plans here. The first electric vehicle is here with the 2023 Dodge Hornet R/T. 
The Dodge Hornet is a plug-in hybrid that comes in two trims, the GT and R/T. The R/T is a plug-in hybrid electric vehicle (PHEV) that comes standard with a 1.3-liter turbocharged all-aluminum engine that delivers 285 horsepower and 383 pound feet of torque. All-wheel drive is also standard. The engine works alongside a 90-kW electric motor that produces 184 pound feet of torque from zero rpm and a 15.5-kWh lithium-ion battery. The powertrain comes standard with a six-speed automatic transmission. The Hornet R/T can surpass 30 miles on an all-electric drive and will take up to 2.5 hours to fully charge with a Level 2 charger.  
Connecting back to its history, the Hornet has the same name as its predecessors, the '40s Hudson Hornet, and a '06 Dodge Hornet Concept. No matter its connection to the past, the 2023 Hornet is a game changer and the leader of the next wave of electric vehicles. The 2023 Dodge Hornet R/T PHEV is set to be under $30,000 as its starting price and orders have been open since August 17, 2022. Performance is here.
Dodge's Press Release has more on the Hornet R/T and Hornet GT.
Dodge Charger Daytona Concept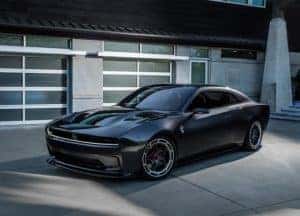 Around the same time as the 2023 Hornet information swarm, Dodge released a surreal concept car: the Dodge Charger Daytona SRT. The Daytona Concept, also introduced during Speed Week 2022, may idle like a muscle car, but it doesn't sit around and wait for other performance cars to catch up. The two-door Charger Daytona is a battery electric vehicle (BEV), meaning it's fully electric with no need to gas up. It has four seats and a lifting cargo area with rear folding seats. The design pulls aspects from racecars and past Charger designs, especially the 1968 Charger with its textured grille. The powertrain is not set in stone, but Dodge has three possible options. Read more here.  
No matter how powerful the new plug-in electric Hornet is or how futuristic the Daytona Concept may be, there really isn't any replacing the Dodge Challenger or Charger. Will the 2023 Hornet PHEV have the same rumble as it pulls away from a parking spot? Did they get the ride feel right with the Daytona BEV Concept? We'll keep you updated, and as we're keeping our ears to the ground, let us know what you think in the comments below!