Our Five Favorite Features of the 2023 Jeep Wrangler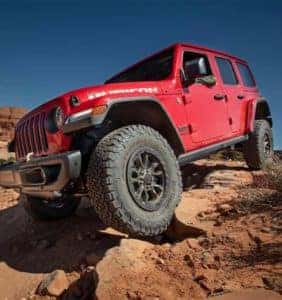 The new 2023 Jeep Wrangler was recently announced and we at Landers Chrysler Dodge Jeep Ram of Norman are going on the record to say we're a fan. Get us a t-shirt and we'll be at every ball game in the front row supporting the team, the biggest fan we can be kind of fan. If you're interested in an in-depth look at what the new Wrangler has to offer, check out what we know. 
For a shorter list though, we compiled our five favorite features of the 2023 Jeep Wrangler. There's no particular order, but let us know in the comments which one you're looking forward to the most. Let's talk about them! 
Wi-Fi Hotspot 
The 2023 Jeep Wrangler can come with an available 4G LTE Wi-Fi Hotspot, which can connect up to eight different devices seamlessly. Take the team to work remotely, friends camping without losing Snapchat streaks, or even Spotify to the lake without buffering. The hotspot reaches a radius of 50 feet from your vehicle and moves with you down any trail. The possibilities grow with your imagination. 
Rubicon 392 
This "feature" is more of a broad category as it's a complete trim level. The 2023 Jeep Wrangler Rubicon 392 comes thundering in with a 6.4-liter Hemi V8 engine, 470 horsepower, and 470 lb.-ft. of torque. If you want a Wrangler that gets up and runs, this Wrangler Rubicon 392 goes from zero to 60 mph in 4.5 seconds or can conquer the quarter mile in 13 seconds. That's not even touching the off-roading power this Jeep has under its 33-inch all-terrain wheels. We suggest going all the way and completing the look with the available half-door option. It also won Four Wheeler 2022 SUV of the Year Award.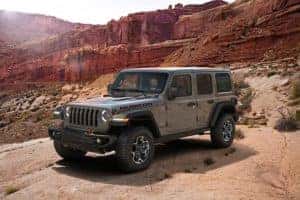 Alpine Premium Audio System
The optional Alpine Premium Audio System surrounds the Wrangler cabin with the best quality of whatever tunes you're feeling at the moment. It comes with a sound bar embedded in the roof, just behind the heads of the front seats, an all-weather subwoofer, and a 552-watt amplifier. Need help finding a music vibe? We have a few playlists waiting for you! 
4xe 
It would almost be unfair to miss out on mentioning the electric counterpart of the 2023 model year. The 2023 Wrangler 4xe has an estimated all-electric range of 21 miles and a total driving range of up to 370 miles. The 2023 Wrangler 4xe can work between different modes, including a hybrid mode, which will combine both a 2.0-liter turbocharged engine and an electric motor to make the Wrangler go. The starting price for the 2023 Jeep Wrangler 4xe is $55,260. Keep up with Chrysler, Dodge, Jeep, and Ram Hybrid news. 
New Exterior Colors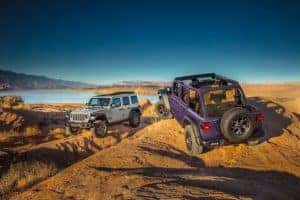 Last, but not least, we're thrilled to see the 2023 Jeep Wrangler sporting new color choices! Earl and Reign are interesting new exterior hues. Earl is a gray shade with ties to the 2020 Gladiator Farout concept. It starts at an extra $395 and is available throughout the entire 2023 model year. Reign, a purple tone, which is historically the color of royalty, is limited. Only available from July through October of 2022, Reign starts at $495 and was last seen when the 2018 Wrangler JK drove away, signaling an end to that generation of Jeeps. These stunning exterior paint alternatives join the other eye-catching colors on the 2023 Jeep Wrangler. Learn more about the new color options.
We at Landers CJDR of Norman, OK want to know which one of these features caught your eye. Let us know in the comments!