Jeep debuts the incredible Jeep Gladiator Farout concept vehicle!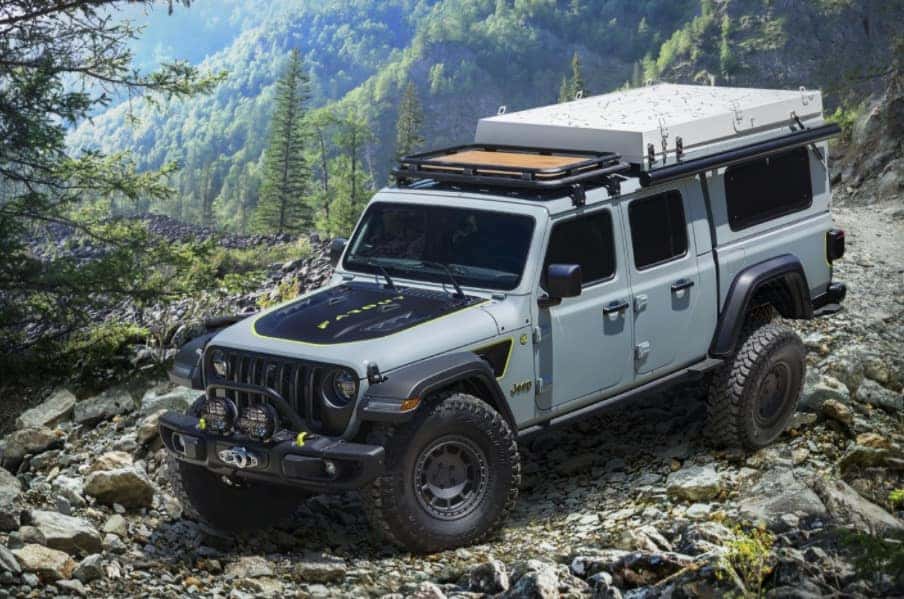 Efforts to contain the spread of the Covid-19 epidemic have led to the cancellation of events big and small all over the country in the past few months, and that includes a number of events that Jeep had on the schedule for the tight-knit community of Jeep fans. One of the most popular Jeep events of the year is the annual Moab Easter Jeep Safari. Normally held every year on Easter weekend in Moab, Utah, the Moab Easter Jeep Safari is also notable because Jeep rolls out a big slate of incredible concept vehicles, from one-off Jeep concept trucks and SUVs, to currently-available Jeep vehicles kitted out with the latest and most useful of accessories from Mopar Performance.

With the Moab Easter Jeep Safari cancelled this year, Jeep has been slowly releasing details on all the incredible concepts and custom-built Jeeps they planned to debut there, including the Hemi-powered Jeep Rubicon 392 Concept. Next up in the debut schedule is a Jeep Gladiator that is sure to appeal to anyone who loves getting way, way, WAY out there: a fully-outfitted Gladiator that Jeep is calling the Jeep Farout! Playing on the theme of "overlander" vehicles that are basically super-capable mini-RVs, the Jeep Farout Concept takes the Gladiator to a whole new level!

CLICK HERE TO SHOP OUR SELECTION OF 2020 JEEP GLADIATOR MODELS

Powered by a stock 3.0-liter EcoDiesel V-6 engine delivering an incredible 442 lb.-ft of torque and 18 mpg fuel economy to maximize fuel efficiency for less fuel hauling and more fun, the main feature of the Jeep Farout is a custom-built camper shell with a quickly-deployable rooftop tent. A spacious 16-feet-by-7.5-feet when fully unfurled, the tent sets up in minutes, features a deployable ladder to help you get up where the stars are, and comfortably sleeps four away from nighttime predators, snakes and crawling bugs.

Inside, the Jeep Farout Concept goes retro camper, with a custom wood-lined interior with ambient lighting, a compact refrigerator and stove, built-in seating with a small dining or card table and more. Inside the Farout's cab, Jeep designers carried on the retro camping theme with dark blue leather accented by orange contrast stitching and lumberjack-plaid flannel seat inserts.
Carrying a tiny home on its back, the Jeep Gladiator Farout has the capability to get you wherever your heart desires, with a Jeep Performance Parts two-inch lift, 17-inch matte charcoal rims spinning 37-inch mud-terrain tires, and a redesigned Gladiator Rubicon steel front bumper fitted with a stout, 12,000-pound Warn winch. Custom front and rear rock rails keep the paint shiny in rough terrain, while performance shocks by Fox smooth out the humps and bumps. Your extra gear, meanwhile, can be securely carried in the cab-top roof-rack. 

"Although we didn't get to celebrate in Moab this year with our latest round of concept vehicles, we're pleased to introduce the Jeep Farout concept today as a vehicle that blends Gladiator EcoDiesel's fuel efficiency with an area of features fans of overlanding will love," said Jeep Brean head Jim Morrison. "Building on the popularity of last year's Gladiator Wayout concept, and as overlanding continues to grow in popularity, this year's Farout concept is another opportunity to gather feedback from our passionate customer base."
While it looks wild and features a lot of interior fabrication, the exterior look of the Jeep Farout concept should really get the wheels turning for owners and fans of the Jeep Gladiator when it comes to dreaming up similar mods they could make to their own Gladiator with the help of the parts and accessories counter at Landers CDJR of Norman. You can even get the same diesel power plant, when the  2021 Jeep Gladiator EcoDiesel goes on sale this fall.

Need a blank canvas to build your ultimate Jeep Gladiator overlanding rig? Stop in today at Landers CDJR of Norman for a test drive, or check out our full selection of 2020 Jeep Gladiator models online right now.

CLICK HERE TO CONTACT OUR DEALERSHIP