Accessories for Your Jeep
Jeep life is about taking the adventures you want to go on. The great thing about owning a Jeep is that you can customize it however you want to fit your style and your needs. We at Landers Chrysler Dodge Jeep Ram of Norman, Oklahoma created a list of accessories you may need this summer. Check them out! 
View our Entire Jeep Inventory
Some Accessories to Start Your Search. 
Any decent Jeep trip will run the risk of dragging dirt and debris into your vehicle. Going mudding? Sports game? To the store on a rainy day? The possibilities are there. This mat will keep your cargo from staining the interior flooring of the trunk area. Continue the Jeep life with the Jeep logo visible on the mat. The starting price is $110. 
Five perfect gifts for the Chrysler, Dodge, Jeep or Ram fan on your list.
If it's scratches or dents to the exterior you're worried about, think about investing in a hood cover. The one linked has the Jeep logo in the middle and comes with a T-style. It'll cover the hood and matching top and tire covers are accessible. The starting price is $70.45.
Three accessories that make owning a Jeep Gladiator or Wrangler even better!
With Memorial Day around the corner, it's time to switch out your tire cover for something a little more patriotic. The black vinyl material was made to cover your spare tire snuggly. This tire cover will not block your sight from your rearview camera. Mopar has plenty of choices for you to choose from for different occasions. Check them out here. The starting price is $85.
Camping Ideas for Memorial Day.
A Jeep hard top will last longer and is more durable when compared to soft tops. So, if you're looking into going on a longer and rougher road, choosing the Hard Top Headliner will protect each passenger and baggage from stray odds and ends. This headliner is waterproof and comes with eight panels, each equipped with an Aplix hook and loop and a barrier strip. The starting price is $511. 
How To Take Top off of Jeep Wrangler.
Need more cargo space? Adding Roof Rack Crossbars to the top of your Jeep makes it possible to add your load to the top of your vehicle instead of clogging up the cabin. This kit includes the two black crossbars and the equipment to install them. The starting price is $311.
Christmas Gift Guide: Accessories for the Ultimate Jeeper.
Pull up to 3,500 pounds in your Jeep Wrangler with the help of a hitch receiver. The tongue weight capacity maxes out at 350 pounds. This hitch receiver was designed to fit your Wrangler without cutting into the rear bumper. This Mopar Hitch Receiver also comes with a Jeep Hitch Cover. The starting price is $220. 
Jeep Wrangler Accessories YOU need. 
Jeep and Igloo both know that the right equipment can make or break a trip. With original artwork, these two adventure chasers have partnered to bring Jeepers a special-edition ice chest. The base color can either be Carbon or Sapphire. This seven-quart cooler can fit nine 12-ounce cans. The starting price is $44.99. 
Suited Up for Success: Mopar Will Offer 200+ Products for All-New 2020 Jeep Gladiator.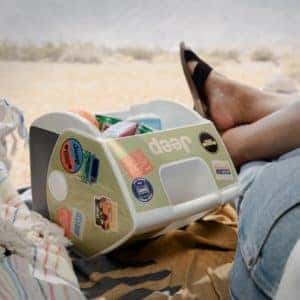 Mopar also supplies quality vehicle parts to keep any Chrysler, Dodge, Jeep, or Ram running to the best of its ability. We have coupons for you to look through! Whether you're hoping to find 15% off parts and accessories or general coupons for 10% off any service needed, see our Mopar coupons before you finalize your order. 
Need installation assistance? Our service team will be glad to help! Schedule your next service appointment. 
More Service Coupons. Our service coupons are updated with each new month, so don't miss out! 
Let us know which accessory caught your interest in the comments! We at Landers CDJR of Norman want to know which feature you would equip your Jeep with!