How To Take Top off of Jeep Wrangler
How To Remove the Top of your Jeep Wrangler | Landers Chrysler Dodge Jeep Ram of Norman
So you got your new Jeep Wrangler – how pumped are you?! This is an amazing vehicle built for any adventure and designed to take you anywhere, not to mention the new 2019 models drive like champs. The Jeep comes with a multitude of creature comforts really meant for the open road and warmer weather. You can take the tops or doors off, basically drive on any road terrain – we really can't think of any better summer vehicle! The only downside is that people think taking off the soft top (roof) can be a bit time consuming or difficult – but fear not friends, it's simple! We have made a complete list to help removing the top off smooth for you. Keeping reading for out tips & tricks!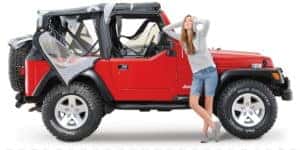 Soft Top Removal:
From the trunk grasp corners of the rear window while pulling up and away from the vehicle until the window is only remaining attached at the top. Slide the window down and towards the left by using the slide track system.

The creators of Jeep Wranglers through the removal process, the side windows removal process is the exact same way.

Next is the TOP! The moment we've all been waiting for. Inside the Wrangler there are two latches – each one behind the sun visor. Undo these latches to unlock the soft top.

Now go ahead and push the soft top back halfway. You can remove the entire roof by unhooking the latch on the back of the rooftop. So from now on it will fold back like a traditional convertible top while the rest remains covered.

Ensure the roof won't blow away by locking it into place using the locks so that the soft top connects to the frame of the Jeep Wrangler. Now, push the top upwards to make sure it is completely locked.
We hope these tips and tricks help you learn how to remove your Soft Top off your Jeep Wrangler. We will show you how to remove your Hard Top off next month, so keep an eye out. In the meantime come visit us today to test drive our amazing selection of Jeep Wranglers – you won't regret it!