SRT Models Throughout History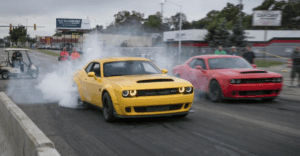 If you've been to a Dodge dealership, you've probably seen the shiny high-performance SRT Challengers, Chargers and Jeep Cherokee Trackhawks on the showroom floor. But if you're not a gearhead, you may not know what makes that vehicle so special. Fiat Chrysler Automobiles (FCA) represents all of our brands and has accomplished several engineering feats with SRT models.
SRT stands for Street & Racing Technology. That wasn't always the name for the high-performance automobile group within FCA. This division began life as "Team Viper" to develop the Dodge Viper in the 1990s. It later merged with "Team Prowler" to become Specialty Vehicle Engineering. This was renamed to Performance Vehicle Operations and eventually turned into Street and Racing Technology by 2004.
Each SRT model has a number after the prefix to denote the number of cylinders the vehicle has. The larger the number, the faster, bigger, and more powerful the vehicle.
The first SRT model other than the original Viper was the Dodge Neon SRT-4. The Neon SRT-4 used a turbocharged four-cylinder engine to produce up to 230 horsepower. A few years later, a four-cylinder turbo engine was put into the Caliber Hatchback and these were the only two models to carry the SRT-4 nameplate.
The Chrysler Crossfire SRT-6 is the only SRT model to use a six-cylinder engine. This 3.2-liter Mercedes-AMG derived engine made 350-horsepower and went from 0-60 in 4.8 seconds.
The SRT-8 vehicles with the V8 Hemi engine are the most popular SRT models. The Magnum, 300C, Charger, Challenger, and Grand Cherokee all came as SRT-8 models.
The largest SRT engine ever made was an 8.3-liter (later an 8.4-liter) naturally aspirated V10. This was the sole powerplant for the Viper supercar but Dodge's genius engineers crammed it into a Dodge Ram for the ultimate high-performance pickup truck.
Currently, the Challenger, Charger, and Grand Cherokee all have SRT variants that are on sale today. The SRT division shook the world when they released the SRT Hellcat models in 2015. The supercharged V8 has found its way into the Grand Cherokee Trackhawk to make it one of the fastest SUVs on sale today. The limited-run Challenger SRT Demon model was a street-legal drag racing monster that rocketed down the quarter-mile in 9.65 seconds. The Demon is still the only factory-built car ever made that can lift the front tires off the ground when it launches!
Do you want to get behind the wheel of an SRT model? We don't blame you. Contact us at Landers Chrysler Dodge Jeep Ram to inquire about our current SRT inventory. Once you're behind the wheel of a new SRT model, you won't be able to stop smiling.