First-Time Car Buyer's Guide in Oklahoma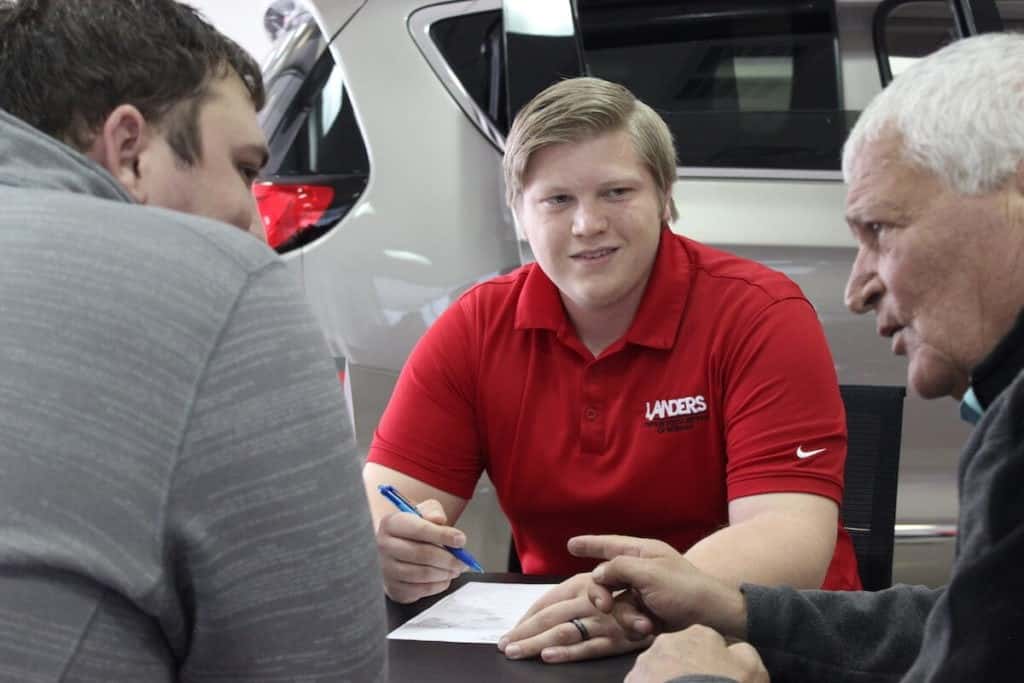 Buying a car for the first time can be scary for those who don't come to the dealership prepared. Lucky for you, after reading our First Time Car Buyer's Guide, you'll be equipped to go into the dealership and pick out the perfect new car! At Landers Chrysler Dodge Jeep Ram of Norman, Oklahoma, we have several great options for your first car. We are patient, knowledgeable, and work with many banks to get your new vehicle financed easily!
Click here to browse our inventory of cars under $20,000
The first step will be to pick out the perfect car for your needs and your budget. Researching cars is now easier than ever because you can use reputable online websites instead of having to go to all the dealership lots to browse new models. We recommend Kelley Blue Book and Edmunds for automotive research, or you can use manufacturer websites like Dodge.com, Jeep.com or Chrysler.com. You can use those websites to build and price vehicle models to see which options you can afford, along with checking out specifications and colors for your new vehicle. After choosing your favorite vehicle, you need to decide how you're going to pay for it. 
There are three main ways to pay for a new car. You can pay cash, finance, or lease. Financing terms usually range from 36-72 months. It is best practice to put down a cash down-payment or a paid-off trade-in in order to decrease your monthly payment. The down payment helps to avoid being upside down in your loan. Being upside-down means you owe more than the value of the car, which is a situation you never want to be in. Leasing allows you to have a cheaper payment and get a new car every couple of years but there is a mileage cap that can vary from 10,000-15,000 miles per year. At the end of the lease, you can either turn the car in and get a new model or purchase the vehicle if you'd like to keep it. There are many types of lease contracts so if you're leaning towards leasing, make sure to do your research about your lease-end options. If you have any questions about leasing a new Chrysler, Dodge, Jeep, or Ram, contact us and we'd love to give you more information. 
Now you arrive at the dealership eager to go home with your new car. Make sure to take it slow, test drive the new vehicle and check out every aspect of the vehicle before going in and signing the papers. New vehicles come with a warranty in case anything goes wrong but they do cost more than a used car. You'll have to decide if the price premium is worth it to you and fits in your budget.
At Landers Chrysler Dodge Jeep Ram of Norman, Oklahoma, we have a full team that is patient, knowledgeable, and ready to help you purchase your first car. Come see us today at Landers to make your first car buying experience simple and easy!