2022 Jeep Grand Cherokee 4xe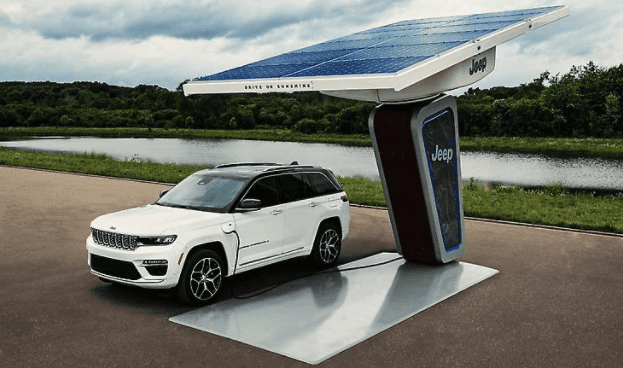 The future is here with the 4xe line from Jeep. This employs the work of both a gasoline engine and a battery pack working in tandem to provide exceptional performance and impressive fuel economy without sacrificing any legendary Jeep driving dynamics.
Jeep is committed to saving the planet that we love exploring so the 4xe line will be expanded to every model in each segment by 2025. The Grand Cherokee is the next generation of electrification from Jeep and with this all-new powertrain, expect to see an all-new design too.
The current 4xe powertrain comes from the Wrangler 4xe and utilizes a 2.0-liter four-cylinder turbocharged engine with the assistance of a battery pack and electric motor to produce a total output of 375 horsepower and 470 lb.-ft. of torque. The EPA estimates the Wrangler 4xe has an all-electric range of 22 miles and a combined MPGe rating of 49. We expect this to be slightly higher on the Grand Cherokee 4xe because of the sleeker design.
There are three modes that you can drive the current 4xe Wrangler in and we expect to see the same operation on the Grand Cherokee 4xe. The default mode, Hybrid, combines torque from both the gasoline engine and the electric motors. This combination provides maximum horsepower, instant torque, and the best acceleration. Electric power is consumed first in this mode. When the battery has more than a one-percent charge, it can run in Electric Mode. This allows for nearly zero tailpipe emissions up to highway speeds. The vehicle can run in this mode for up to 21 miles. eSave Mode prioritizes the gas engine. This saves the battery charge for later use. When power demand is low, the engine shuts off. It can also be reconfigured to increase the battery charge as well.
You can charge the 4xe battery pack at home so you always have a full charge to reach your daily destinations or find one of the many public charging stations available from providers like Charge Point or Blink.