2022 Jeep Easter Concepts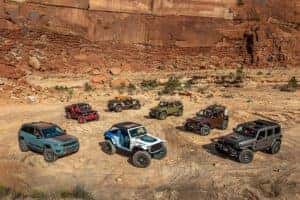 The Jeep life is one full of adventure and chances that, more often than not, payout. Adventures come in waves with each Jeep that hits the asphalt. But what about those Jeeps that aren't commercially produced? Jeep concepts are impressive in their own rights, less so because of their availability, but more so because they push the limits of what a Jeep could be. A custom-built 4xe that is powered by two electric motors and is set to explore the unknown? A Jeep that takes past features and remakes its legacy without disregarding where it came from? A Jeep outfitted with Mopar accessories to the point of extreme customization? Each year, Jeep takes its limitations and pushes past them. This is especially true when it comes to the Easter Jeep Safari concepts. This year, seven Jeep concepts debuted their off-road riding skills through Moab, Utah for the annual nine-day Easter Jeep Safari. We at Landers Chrysler Dodge Jeep Ram of Norman, Oklahoma want to show them off. 
Jeep Wrangler Magneto 2.0 Concept
Meet the first battery-electric concept from Jeep: the Jeep Wrangler Magneto. The first Magneto concept appeared at last year's event, and the 2.0 version was introduced this year. The Magneto 2.0 takes performance to the extreme with four lithium-ion battery packs with 70kWh and an 800-volt system, six-speed manual transmission, and a custom-built axial flux electric motor. 
Jeep Grand Cherokee Trailhawk 4xe Concept
The Jeep Grand Cherokee Trailhawk 4xe concept is a custom-built 4xe that is powered by the two electric motors mentioned in the introduction. These two motors are assisted by a 400-volt battery pack, TorqueFlite eight-speed automatic transmission, and a 2.0-liter turbocharged four-cylinder engine. It has cool custom features, such as mud-terrain tires and Jeep Quadra-Lift air suspension, to not only take advantage of the rocky roads but to conquer them. 
Jeep D-Coder Concept by JPP 
Designed by Jeep Performance Parts (JPP) the Jeep D-Coder is packed with 35 JPP and Mopar accessories, each one available for you to add to your own Jeep. One such accessory is the JPP snorkel, which allows you to tread through high waters while keeping the engine, in this case, a 3.6-liter Pentastar, from drowning. The Gorilla Glass windshield used on this concept is three times stronger than your standard windshield to keep your passengers even safer on rough roads. 
Jeep Birdcage Concept by JPP 
The Jeep Birdcage concept was designed by JPP to have as much fresh air as possible for a 4×4 ride. This plug-in hybrid even has removable windshield and windshield wipers. The custom JPP instrument-panel accessory rail is designed to keep your devices from leaving the cabin unintentionally. A two-inch lift kit with FOX shocks, custom rock-slider skid plate, two-inch support bars, and flat fender flares all find their place on the Birdcage concept to push it to its limits. 
Jeep Rubicon 20th Anniversary Concept
The Jeep Rubicon 20th Anniversary concept has the Jeep Wrangler Rubicon 392 as its inspiration. The 20th Anniversary version is equipped with a dual-mode performance exhaust, half doors, Sky One-touch powertop, and removable side panels. 
Jeep '41 Concept
The Jeep '41 concept looks to the past, specifically the Wrangler Willys from when the U.S. Army first requested the new war vehicle. Custom graphics, digital camo inserts, and tan soft-top mix well with the plug-in hybrid powertrain under the hood. This Wrangler goes down in its own history as "the most capable, technically advanced and eco-friendly Wrangler ever." 
Jeep Bob Concept 
If you create a van diagram with the Jeep Wrangler on one side and the Jeep Gladiator on the other, the Jeep Bob concept is the spot where they overlap. The engine under the hood is a 3.0-liter Eco-Diesel V6 with an eight-speed automatic transmission, and a Mopar cold-air intake was added to both enhance fuel efficiency and boost the max torque. The perforated hardtop and canvas top let more natural light into the cabin, while the suspension and forty-inch tires provide one of the best four-wheeling experiences. 
We at Landers CDJR of Norman want to know! Now that you've read the basics of each Jeep concept, do you have a favorite? Let us know in the comments! 
Invested in a specific concept? Read more about it on Stellantis Media's site.