2022 Grand Wagoneer Steals the Show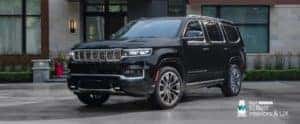 Start your next adventure right where you're at. Trust the trip to the SUV that is taking the country by storm. The 2022 Grand Wagoneer was tasked, as well as the 2022 Wagoneer, to become an American icon. The all-new Grand Wagoneer showcases its success with each new award it claims and adds to the list. We at Landers Chrysler Dodge Jeep Ram of Norman, Oklahoma originally wanted to spend some time discussing the Grand Wagoneer's recent win of Wards 10 Best Interiors & UX for 2022, but you can also expect a small section bragging on other recent awards the Grand Wagoneer has won. Let's check them out. 
Grand Wagoneer & Wagoneer Inventory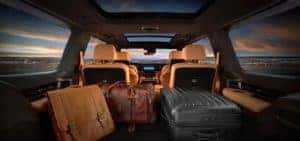 The first award to point out is the Wards 10 Best Interiors & UX for 2022. Just in case you're not into tech, UX stands for user experience. In its first year competing, this three-row SUV raced up the ranks due to its obvious superior interior design. With impressive head- and legroom for the back two rows, the Grand Wagoneer doesn't sacrifice style. Categories each vehicle is judged on include aesthetics and design of the interior, material quality, connectivity infotainment options, comfort and usability, ease of operation, availability and performance of driver-assistance features, and the overall value. As a premium SUV, the 2022 Grand Wagoneer was crafted with each of these important characteristics in mind. 
Read about the 2022 Grand Wagoneer's Exterior!
Alongside the Wards 10 Best Interiors & UX for 2022 award, the Grand Wagoneer was also named:
And no less than three separate awards were won by the Grand Wagoneer in November of 2021. 
While Jeep is still the parent company and creator of the Grand Wagoneer and Wagoneer, like recent high school graduates, the two SUVs are stepping out on their own. There is a lack of Jeep badging on the Wagoneer models, and both are separated and under their own category when you visit the Jeep website. We at Landers CDJR of Norman are openly impressed with how great the 2022 Grand Wagoneer is performing. We can't wait to see how it continues to improve!