Why YOU should buy a Jeep Wrangler!
Why Buy a Jeep Wrangler? | Landers Chrysler Dodge Jeep Ram of Norman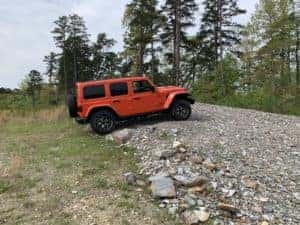 Everyone dreams of driving the iconic Jeep Wranglers, well duh! Why wouldn't you? The Jeep Wrangler pretty much makes anyone look ten times cooler while driving it. Through the years Jeep has worked very diligently to ensure each model gets more efficient and drives smoother for their consumers. The newer models of Jeep Wranglers are really refined from previous models, they also have gained some overall comfort and technology. But don't you worry – it's still as tough as before. We hope that these few reasons why the Jeep Wrangler makes a great vehicle helps you make up your mind – we think it will!
Why YOU should buy a Jeep Wrangler:
Crazy Off Road Capabilities – The Jeep Wrangler is one of the few vehicles on the market that are built with live axles. The newer models come with axles in the front and in the rear with about 11 inches clearing from the ground. If this doesn't sound like enough clearance for you we suggest you check out the Rubicon. With the Rubicon you get different locking capabilities, more intense 4×4 system and so much more.

Powertrains – Jeep still kept its horsepower to 285 with 260 lb-ft torque and V6 engine but improved it with much higher compression and stop/start technology. This results in slightly better fuel economy for city and highway.

Smoother Ride – The newer Jeep Wrangler models are not like the old ones when driving on the road. Before we can admit it can get pretty bumpy, now it is more refined than ever. Now comes with a removable roof, wind and road noise are significantly lower than previously & the suspension is fine tuned for suspected imperfections on the road.
This just scratches the surface as to why you should buy a Jeep Wrangler. We would love to answer any of your questions about the newer Jeep Wrangler models & let you take a test drive. Come visit us today!