Why you need a Jeep Gladiator!
Why you need a Jeep Gladiator! | Landers Chrysler Dodge Jeep Ram of Norman
https://www.landerscdjrnorman.com/
Jeep has made this a year to remember with the release of the all new 2020 Jeep Gladiator! We have waited years for Jeep to come out with a truck and the moment has finally arrived. This is our answer to the feel and of course look of a classic Jeep Wrangler but it now has the utility and cargo capability of a truck. Now, we think the Jeep Gladiator is for everyone because it's such a versatile vehicle but some might disagree. We are here to turn you all into Jeep Gladiator believers!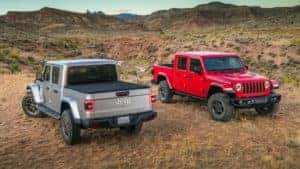 Top Reasons YOU should buy a Jeep Gladiator:
Off-Road Towing: Now we know Jeep Wranglers are known for those off road adventures and the Jeep Gladiator is no different. With the Jeep Gladiator you can tow up to 7,650 lbs, which is more towing capacity than the Jeep Grand Cherokee, all the while offering you more storage space.

Size: For those who can't decide which size vehicle they need, this is a perfect solution. One of the main selling points behind the Gladiator  intelligent size. It gives you plenty of extra cargo space with sacrificing you or your passengers space.

For the Adventure Seeker:  The 2020 Jeep Gladiator is an adventure seeker's best friend. No surprise that Jeep vehicles are perfectly made for any outdoor adventure and the Jeep Gladiator is nothing different. The Jeep Gladiator has amazing power and great traction to handle all terrains.




Gas Mileage: Yes, we know Jeeps are not known for having the best gas mileage. However, out of the entire Jeep lineup this one is pretty dang solid compared to the rest averaging about 20 MPG on the highway.  
Are you ready to buy a 2020 Jeep Gladiator in Norman, Oklahoma? Yes, we thought so! We are just now getting these beauties on the lot and we cannot contain our excitement! Swing by today for a test drive you'll never forget.