Which Jeep SUV is right for me and my family?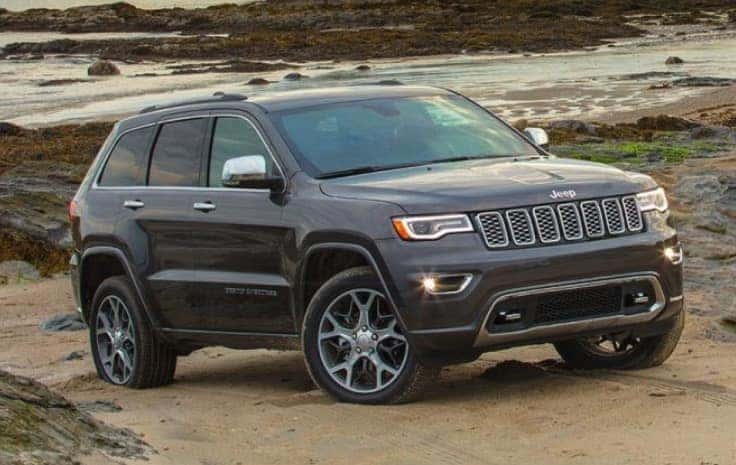 All over the world, the Jeep name has long been shorthand for off-road supremacy, with millions relying on Jeep vehicles to get them over, under, around and through some of the toughest terrain on the planet. Another thing Jeep has long been known for are their comfortable, cargo-friendly SUVs. Jeep is literally the brand that invented the SUV, with iconic, capable people-movers like the classic Willys Carryall Wagon and the Jeep Wagoneer carrying generations of Americans on their way to find adventure on- and off-road.

Currently, in addition to the rugged Jeep Wrangler and Jeep Gladiator, Jeep produces four different SUV models: the compact Jeep Renegade, the sporty and capable Jeep Compass, the family-friendly Jeep Cherokee, and the luxurious Jeep Grand Cherokee. While any one of these Jeep SUVs would be a great fit, we know there's no one-size-fits-all vehicle for every family.

Stumped trying to figure out which Jeep SUV is right for your needs? Then let Landers CDJR of Norman make it easier with a short quiz that will help you zero in on the Jeep SUV that's perfect for you and your needs. And when you get it figured out, come see us today at Landers CDJR of Norman, where you can test drive every Jeep SUV currently produced to find the one that fits just right!

CLICK HERE TO SHOP OUR SELECTION OF 2020 JEEP SUV MODELS

1) How often will you go off road?
A) Rarely, but I'd like to have the capability and traction if I need it
B) Every few months, when I go camping or hiking.
C) All the time!
D) I'll mostly use my Jeep for on-road trips.
2) It's most important to me that my SUV is:
A) Affordable on any budget and fuel efficient, but still fun.
B) Flexible enough to keep up with me, but not overly expensive.
C) Sporty and uber-capable off-road.
D) Comfortable and spacious.

3) How much cargo space do you need?
A) Just enough for me, a few passengers and our stuff.
B) I'd like to be able to haul home treasures, but I don't want something hard to park.
C) I need the perfect blend of size, comfort and cargo hauling capability.
D) I need plenty of space for my passengers and their bags.
4) Choose a meal:
A) Taco Tuesday!
B) Fruit smoothie
C) Kid-friendly pepperoni pizza
D) Most any elegant meal in a sit-down restaurant will do.
5) What do you listen to when you drive?
A) Top 40 radio with the latest and hits.
B) Podcasts!
C) The sounds of nature with the windows down
D) Mozart and Hendrix, Bach and Bob Dylan. The classics!

MOSTLY A: You're a 2020 Jeep Renegade!
The Jeep brand's smallest family member, the Jeep Renegade goes big on features, safety and fuel economy, delivering signature Jeep style from the iconic seven-slot grille to the quirky, industrial-style shape. It's affordable to own, too, with the 2020 Jeep Renegade starting at just $22,375. Want the ultimate Renegade? Step up to the capable Jeep Renegade Trailhawk, with rugged 4×4 systems and even more style!
BROWSE OUR SELECTION OF JEEP RENEGADE MODELS

MOSTLY B: You're a 2020 Jeep Compass!
Slightly larger than the 2020 Jeep Renegade is the 2020 Jeep Compass, which features a starting price of just $22,280. You'll pass up the gas station more often in the 2020 Jeep Compass too, thanks to 4×2 models achieving an incredible 32 mpg on the highway. Jeep Compass 4×4 models, meanwhile, offer the optimal mix of style and off-road capability, with Jeep Compass Trailhawk models featuring best-in-class water fording, ground clearance and traction.4x2 models offer impressive efficiency with a Best-In-Class 32 highway 
BROWSE OUR SELECTION OF JEEP COMPASS MODELS

MOSTLY C: You're a 2020 Jeep Cherokee! 
One of the most legendary names in off-roading, the iconic Jeep Cherokee has been a family favorite for years thanks to its great combination of impressive style and off-road performance. The 2020 Jeep Cherokee might just be the best Cherokee ever, with signature style, more interior room than Compass or Renegade, modern amenities, safety systems and features everywhere you look, plus a starting price of just $25,840.
BROWSE OUR SELECTION OF JEEP CHEROKEE MODELS
MOSTLY D: You're a 2020 Jeep Grand Cherokee! 
For the ultimate in style, presence, flexibility, passenger comfort and cargo room, there is only one Jeep Grand Cherokee. Still very affordable, with a starting price of $32,150, the full-size 2020 Jeep Grand Cherokee can be easily outfitted to the lifestyle you want, from the ultimate performance of the 700-horsepower 2020 Jeep Grand Cherokee Trackhawk, to the ultimate off-road capability of the 2020 Jeep Grand Cherokee Trailhawk, to the sumptuous luxury of the Jeep Grand Cherokee High Altitude. Whichever Jeep Grand Cherokee you choose, you're getting a powerhouse, with up to 7,200 pounds of towing muscle. 

BROWSE OUR SELECTION OF 2020 JEEP GRAND CHEROKEE MODELS

Well, are you a little closer to figuring out which Jeep SUV is perfect for you? If you're getting close to a decision, the best thing to do is stop in at Landers CDJR of Norman, where you can test-drive the Jeep Renegade, Compass, Cherokee and Grand Cherokee all in one spot, along with looking at the dozens of available trim levels of each model. Or you can check out our full selection of great Jeep SUVs at our website right now.

CLICK HERE TO SCHEDULE A TEST DRIVE