What To Do If Your Vehicle Breaks Down | Landers CDJR of Norman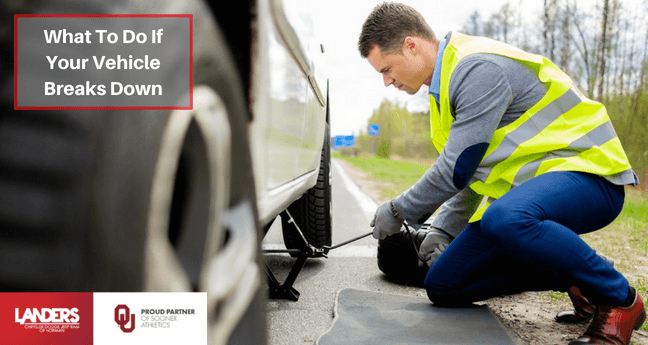 When it comes to your vehicle, you should always stay one step ahead and make sure you're equipped to deal with any less-than-ideal situations. Of course, you can't be prepared for every possible outcome, but that doesn't mean you should throw all caution to the wind. Having a vehicle break down on the road is actually a pretty common occurrence, so it can't hurt to be prepared. Our team here at Landers Chrysler Dodge Jeep Ram of Norman came up with a list of things to remember if your vehicle does break down. Take a look and keep these tips filed away just in case you ever need them.
Move away from the road.
We know it's frustrating when your car breaks down, and you're not always thinking as clearly as you should be. You might feel the urge to jump into action, but take a moment to remember that the most important thing is to get out of the road first, if you can. If you're on the highway, pull to the shoulder as quickly and safely as possible. Just don't forget to use your blinker and make sure your vehicle is parked on a flat surface. If you can't move your vehicle for any reason, turn on your hazard lights right away.
Take note of where you are.
If you're in need of assistance, it's important to know where you and your vehicle are located. If you don't know off the top of your head, look around for a landmark or an exit sign. If you don't see anything, try to remember the name of the most recent exit, building or billboard that you passed. This will be very useful information to give if you need to call for help.
Try to identify the issue.
If your car stopped running in the middle of the road, that's a really good indication that there's a bigger problem at play. Pay attention to any unusual sounds, smells, physical responses and things like steam or smoke coming from the vehicle. Only exit the vehicle as a last resort. If you do need to get out of the car, pay close attention to oncoming traffic and exit on the opposite side of the vehicle. Do not stand directly behind or in front of your vehicle, either — stick to the side that is furthest from the road. Don't forget to put your flashers on and tie a white or brightly-colored handkerchief (or another piece of fabric like a tie or jacket) from your window or door handle.
Call roadside assistance.
If you drive a Chrysler, Dodge, Jeep or Ram vehicle, you can get roadside assistance 24 hours a day, 7 days a week, 365 days a year. That's pretty encouraging, right? All you have to do is call 1-800-521-2779. From there, the Mopar specialists will get you taken care of. They will send someone to tow your vehicle, jump start your battery, change a flat tire, deliver fuel, or anything else you need assistance with.
Stay calm and use common sense.
Remember to breathe. Having a car break down is incredibly frustrating, we know. But if you're able to feel frustrated and annoyed by it, that probably means you're not hurt and everything is going to be okay. Don't let being frazzled cause you to make any questionable decisions. Be safe, and be wary of seemingly helpful strangers. It's best to sit in your car with the doors locked and wait for the professionals to arrive. Of course, there are exceptions to every rule. Just use common sense and approach everything with caution. It will be over before you know it!
If you have any questions about Mopar roadside assistance services, stop by Landers Chrysler Dodge Jeep Ram of Norman or give us a call to chat with one of our professionals. Your safety is important to us!