The OU Sooners Football Facilities are Impeccable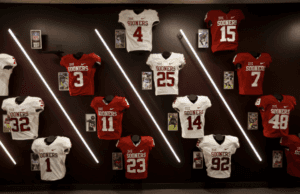 Finished just over a year ago, the Oklahoma University Sooners' new football facilities have some of the latest and greatest when it comes to sports technology, training and recovery. Not to mention, there's definitely a proud sense of accomplishment and team spirit as you walk through the halls. Colloquially referred to as "The Players' House", it's easy to see why these new facilities are all the rage amongst the Sooners themselves.
Stepping into the football players' lounge, larger-than-life photo collages of players past line the wall while gray sofas and sectionals sit in the middle for players to relax and unwind. A huge flat screen TV is attached to the wall for all to see and a completely stocked mini-kitchen make sure the student-athletes have readily available nutrition on hand. There's even a miniature salon, equipped with a barber's chair emblazoned with the OU logo.
Heading to the locker room, the players each have their own hydraulic setup which is both incredibly cool and super functional. For starters, a drying rack neatly tucks away their cleats so they can be dried and deodorized. An illuminated picture of each Sooner indicates which locker is theirs (including their name, number, and hometown,) and can also be lifted up to access their shoulder pads with ease. Sooner memorabilia can be found throughout the locker room, too, including bowl watches, the Sugar Bowl trophy and even the Red River Rivalry Golden Hat to inspire them daily.
An all-new strength and conditioning complex can also be found in the Sooners' new facilities and includes over 70-yards worth of indoor turf for training. Underneath said turf you'll find a force plate created by Zybek Sports–the first ever installed at a college football program–which is used to measure a wide range of sports analytics. Once the Sooners are done with their training, they've got their very own recovery pool which is rather magical in its own right. With a large, soothing waterfall and OKLAHOMA highlighted across the back wall, each player is made to feel right at home in the two-tiered pool. And although it may look and sound enticing, the water is actually icy cold and meant to speed up muscle recovery.
All these awesome facilities are sure to help the OU Sooners succeed this upcoming football season, and Landers Chrysler Dodge Jeep Ram of Norman is proud to be a sponsor! Click here to learn more about us now.