The Jeep Wave: What is It and, More Importantly, am I Doing It Right?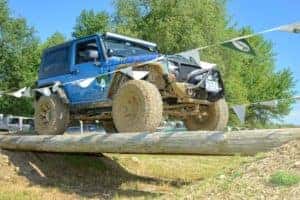 Ah, the elusive and enigmatic Jeep Wave. Is it a dance? Some kind of secret, passed-down handshake? Let's face it, is the Wave it even real? The answers — yes it is most certainly real, no it is not a dance move (though we think that might be cool) and it's not exactly a handshake, per se, but only the right people know about it. You definitely won't find this info officially published on Jeep.com, but instead in the wisdom, history and experiences of Jeep-owners and lovers — Jeepers — past and present.
Much like in The Hunger Games when Katniss Everdeen gives her powerful Three Finger Salute, the Jeep Wave is a sign of respect to Jeepers everywhere. The Jeep Wave is defined as "an honor bestowed upon those drivers with the superior intelligence, taste, class and discomfort tolerance to own the ultimate vehicle — the Jeep. Generally consists of vigorous side-to-side motion of one or both hands, but may be modified to suit circumstances and locally accepted etiquette." There are a few important etiquette rules to follow when executing the Jeep Wave, however, so follow along closely.
The first and most important — always wave, especially to Jeeps of your same make and model! Like the definition mentioned above, style is not concrete when performing the Jeep Wave so feel free to wave as you see fit to your fellow Jeepers. One gray area oft discussed by Jeepers old and young alike is the subject of who should wave first. The general rule is that the owner of the "lesser built" Jeep should wave to the Jeep that has had a little more time and work spent on it as a sign of respect. However, most Jeepers agree the entire action of the Jeep Wave being completed is more important than trying to determine who should initiate.
Been thinking of taking home your own Jeep? Now's the best time! Stop by Landers Chrysler Dodge Jeep Ram of Norman today so we can get you Jeep Waving tomorrow!