The Drag Race is On: Introducing Dodge's 1320 Club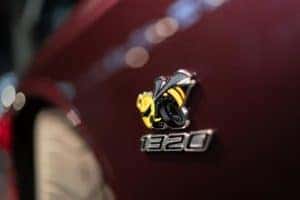 Do you have a love of drag racing in your beloved Dodge? Dodge is prepared to reward your racing efforts with the introduction of their all-new 1320 Club! The art of drag racing is a fine one and Dodge wants to celebrate its enthusiasts in a unique and creative way. Dodge's new club receives its name from the quarter-mile stretch that is the standard distance for drag racers to travel while racing — equal to 1,320 feet. Easily accessible via Dodge's digital content hub called the Dodge Garage, the freshly created 1320 Club allows its members to show off their accomplishments on the strip as well as challenge other racers in an attempt to make it on the coveted Stock or Modified 1320 Club Leaderboard.
Steve Beahm, Head of Passenger Car Brands for Fiat Chrysler Automobiles North America, explains, "The 1320 Club provides our Dodge brand enthusiasts with an exclusive online destination to record and share their official quarter-mile achievements within the drag racing community. With more Dodge brand enthusiasts than ever wanting to be part of our 'brotherhood of muscle,' the addition of the 1320 Club to the Dodge Garage further expands the ultimate digital content hub where muscle car and race enthusiasts can find the latest on all things Dodge, SRT and Mopar." Currently open to all US and Canadian owners of late model Dodge Challengers and Chargers, the 1320 Club will grant members the ability to create a public-facing profile, take Dodge's safe racing pledge, submit time splits for approval, display their hot rods and much much more! You can even earn achievement badges in the form of decals for your Dodge, in either gray for Stock or red for Modified. These achievements include a  1/4 mile ET ranging from 8.0 to 13.9s, a 0-60 ft. time ranging from 1.4 to 2.0s, and a top speed ranging from 105 to 170. If you purchase one of these achievement decals, you'll also receive a member-exclusive Dodge 1320 Club Hat! So if you're active in the drag racing community, make sure to #SaveYourSlips and upload them as soon as possible.
Ready to snag a Dodge Challenger or Charger so you, too, can be a part of this elite club? Click here to visit Landers Chrysler Dodge Jeep Ram of Norman today!