Say Hello! To the Updated 2019 Jeep Renegade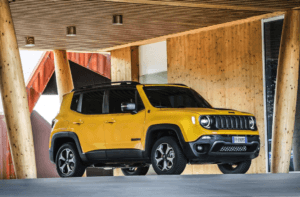 Ready for a bold, rebellious new ride? You'll be happy to know that Jeep is back at it again, this time with exhilarating changes to the all new 2019 Jeep Renegade! With a slew of both exterior and interior updates, this new and improved Renegade is sure to have you asking, "When's the next adventure?"
Featuring a new grille with redesigned slots and an altered, updated lower fascia, the 2019 Jeep Renegade exudes modernity from the front to the back. LED headlamps and taillights make it easier to see at night, while the new Renegade also has the options for 16-, 17-, 18- and even 19-inch wheels — choose the look that fits your lifestyle best.
Jump inside the new 2019 Jeep Renegade and first you'll notice a UConnect system at the front of the vehicle which features both Apple CarPlay and Android Auto compatibility. No more fighting over which is better! The center console of the new Renegade also gets a slight update with the secondary USB port moved to the center of the armrest. Speaking of tech, the new Renegade also comes standard with Intelligent Speed Assist with Traffic Sign Recognition and Lane Sense Departure Warning-Plus, so you can always feel safe on the road.
Are you interested in a 2019 Jeep Renegade? We're ready to help you here at Landers Chrysler Dodge Jeep Ram of Norman. Stop by today!