RAM's Commercial Vehicles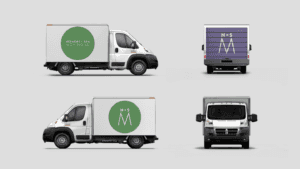 Owning a business is a ton of hard work: organizing finances, managing inventory, insuring your assets, customer management — the whole thing can be incredibly overwhelming. But with Ram's wide selection of heavy duty commercial vehicles, there's now just one less thing to worry about. Whether you're moving furniture or towing construction equipment, Ram delivers consistently reliable vehicles for your business needs everytime.
With the Ram Promaster and Promaster City you can safely and efficiently transport cargo or passengers to your next destination. You can handily fit large, tall pieces in the Promaster Vans' fully covered cab, and can even stand up inside if need be! Choose the Promaster City Passenger Wagon and you easily seat up to five people in its massive 100+ cubic feet of cargo capacity.
We all know that Ram builds trucks to last, and the commercial trucks aren't any different. With the 1500, 2500, and 3500 models available, there's a Ram truck for any occasion and any task. Delivering Best-in-Class Diesel Towing, the Ram 3500 can impressively tow over 31,000 pounds. Recently named the Heavy Duty Pickup Truck of Texas, the Ram 2500 delivers a whopping Best-In-Class Gas Horsepower of 410! Serving up the Highest Owner Loyalty in the Full-Size Half-Ton Pickup Segment is the Ram 1500–so in the end, there is no wrong choice.
Need to upgrade your hauling capability? The Ram Chassis Cab boasts a 60-inch cab-to-axle length that can accommodate most upfits up to 9 feet in length. The 5500 model can tow just over 30,000 pounds! Now that's one tough ride. As one of the Best-in-Class for Diesel Engine Oil Change Intervals and for Available Dual Fuel Tank Capacity, whichever Ram Chassis Cab you choose will always get the job done.
Ready to check out RAM's commercial vehicles for your business? Stop by Landers Chrysler Dodge Jeep Ram of Norman today to explore your options!