Ram 1500: King of the Oil Field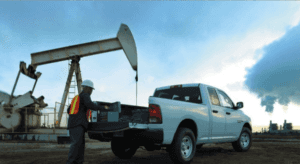 When you're in the oil industry, a good work truck is pretty much a necessity. You need something that not only looks good with the rig in the background, but that has enough capability and efficiency to make you the most money. The 2017 Ram 1500 is the only truck we'd trust in the oil field, and we think everyone in the industry needs to know about it.
Caesar of Safety
Anytime you're working in an oil field, safety is a huge concern. You want to be in a vehicle that you know will keep you protected where others would fall short. That's what you get with the Ram 1500. Each one is equipped with some of the most advanced safety and security technology out there to keep you and your crew safe and secure. The 2017 truck has dynamic crumple zones, side-impact door beams and an exceptionally advanced airbag system. With a frame steel strength of 50,000 psi, the Ram 1500 can handle the toughest tasks without a problem. The four-wheel disc antilock brakes are designed to prevent wheel lockup during those times when you may have to brake suddenly on a slick surface, like ice—or, you know, oil. You also get helpful features like the rear backup camera that'll keep you from backing into any important equipment or crew members. In other words, the Ram 1500's got your back. Big time.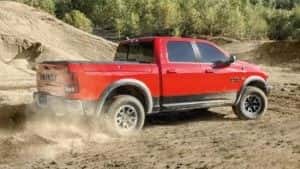 Powerful Ruler
The 2017 Ram 1500 is one powerful pickup. You get the option of multiple available engines, so you can be sure you're getting the amount of power you need. The 5.7L Hemi V8 engine lends legendary power to the Ram 1500, which is exactly what you'd expect out of a Ram truck. It has 410 lb-ft of torque and 395 horsepower. The 3.0L Ecodiesel V6 engine helps deliver best-in-class fuel efficiency and a driving range of up to 754 highway miles. It has 420 lb-ft of torque with 240 horsepower. If you're driving long distances between job sites, this engine might be a good one to consider. The standard 3.6L Pentastar V6 engine offers a sophisticated thermal management system for optimal power, performance and efficiency. To take your truck to yet another level of power, you can get the active-level four-corner air suspension, which does automatic load leveling designed specifically to help improve capability and performance. This allows the driver to raise and lower the vehicle to one of five ride height settings, offers dashboard controls to adjust clearance, and uses smart sensors to automatically lower the truck at highway speeds to reduce drag.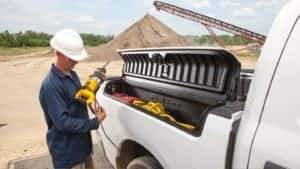 King of Towing
When it comes to towing capabilities, there is no other truck that compares to the 2017 Ram 1500. In the oil field, you need to be able to tow and haul a lot of equipment, tools and other cargo—so this is a really important aspect for you. The first towing feature is called Hill Start Assist, which senses when your truck is on an incline and actually maintains brake pressure as you move your foot from the brake to the gas pedal.  This prevents your truck from rolling backwards. Each truck also comes with an integrated trailer hitch that provides an easy, safe and secure connection from your truck to your trailer. The 1500s also provide a four- and seven-pin trailer hitch wiring harness and connectors with convenient bumper integration. Sure, there are other trucks that claim to tow and haul heavy loads. But how many trucks can comfortably haul 10,690 lbs uphill in any conditions? Well… we know the 2017 Ram 1500 can. Not only can it tow and haul your biggest loads, but it can easily navigate all different types of terrain on- or off-road.
If you're ready to invest in a real work truck, swing by or give us a call at Landers Chrysler Dodge Jeep Ram in Norman, Oklahoma. We can have one ready for you test drive as soon as you arrive! You can look through our online inventory to find one that's perfect for you.
Click here to get directions to Landers CDJR of Norman.
Click here to browse our online inventory of new Ram 1500 trucks