OU Sooner News You May Have Missed This Year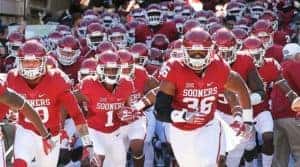 BOOMER SOONER! Football season is finally upon us as the OU Sooners take on the Florida Atlantic Owls on Saturday, September 1, and we're here to bring you some of the important news stories you may have missed while enjoying your summer. No need to worry as even the most loyal of Sooner fans sometimes miss critical updates — we've just done all the work for you!
Former OU Standout on the 2019 College Football Hall of Fame Ballot
The first ever Sooner to receive the Jim Thorpe Award awarded to college football's top defensive back, Rickey Dixon, is on the ballot for the 2019 College Football Hall of Fame. One of only 76 players chosen from the football bowl division to be on the ballot, Dixon finished his Sooner career in 1987 with 170 total tackles and 17 interceptions — just one interception shy of the OU record. This feat is even more impressive considering that over 5 million people have played college football and less than one thousand players have ever been fully inducted to the Hall of Fame. Good luck, Rickey!
Assistant Athletics Director Matt McMillen Retires After 19 Years
The University of Oklahoma's assistant athletics director for football operations Matt McMillen is retiring from his role after 19 years to explore new pursuits. McMillen has worked tirelessly to coordinate the Sooners' travel arrangements to away games, served as the liaison for the football team with the athletics administration team, and also worked as the president for the HBC Champions foundation in order to help disadvantaged children in the central Oklahoma area. Well-liked by all, McMillen's departure will most certainly be felt by all involved in Sooner Football — but it's great that he's "really looking forward to the next adventure."
Seven Sooners Named to 2018 Preseason All-Big 12 Football Team
Selected by media outlets who cover the college football league, seven Oklahoma Sooner football players have been named to the 2018 Preseason All-Big 12 Football Team. Junior wide receiver Marquise Brown, junior running back Rodney Anderson,  junior offensive lineman Bobby Evans, freshman defensive back Brendan Radley-Hiles, sophomore tight end Grant Calcaterra, senior kicker/punter Austin Seibert and senior offensive lineman Ben Powers were a part of the 29 players added to the team. Radley-Hiles also received the prestigious title of Preseason Big 12 Newcomer of the Year.
Once Again the OU Sooners are Slated to Win the Big 12
Also selected by the media that covers college football, the OU Sooners have been picked to win the Big 12 title this year with a whopping 46 out of 52 votes. If the Sooners pull this off, it would be Oklahoma's fourth consecutive win of the Big 12 and no team in the league has ever accomplished such a feat. This is the also sixth time of the last eight polls that OU has been picked to win–it seems like the media is on the Sooners' side.
Safety First: OU has Introduced a Clear Bag Policy
Joining the ranks of professional sporting events and other collegiate sports programs, the University of Oklahoma has implemented a clear bag policy at all home athletic events. Sports fans will be required to carry a clear plastic bag that is no larger than 12" x 6" x 12" if they want to carry a bag into events, though opaque small clutches no larger than 4.5" x 6.5" will be permitted. On top of this new bag policy, walking through a metal detector will also be required before entering any OU sporting events–for everyone's safety. However, if you can find a way to attend an event without a bag at all, that will definitely expedite the process.
OU's New Quarterback: Kyler Murray
Head Coach Lincoln Riley has just announced that junior Kyler Murray will be the starting quarterback for the Sooners' inaugural game of the season, with sophomore Austin Kendall as backup. Last year Murray was the backup for quarterback Baker Mayfield, who not only received the Heisman Trophy but also led the Sooners to victory for their third consecutive Big 12 title. With pretty big footsteps to follow, Murray will start off the season on September 1 at 11:00 AM.
Landers Chrysler Dodge Jeep Ram of Norman is a proud sponsor of the Oklahoma Sooners! Visit our website by clicking here.