OU Baseball Recap
Boomer Sooner! At Landers Chrysler Dodge Jeep Ram of Norman, we are proud partners of Sooner Athletics. We believe it's important to support our community and show them our support! As you all know our OU Sooners are champions of many sports (did you even have a doubt?) — football, basketball, softball, gymnastics and yes…rowing! Time to check in on our OU Baseball team.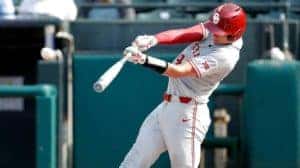 During the 2019 Phillips 66 Big 12 Baseball Championship at Chickasaw Bricktown Ballpark our OU Baseball team fell to No. 16 Baylor, 8-2 this past Wednesday. Some awesome highlight moments were catcher Brady Lindsly going 3-4 and drove in an amazing run for the Sooners (33-22), scoring runs in the 7th and 8th innings. Unfortunately, the Baylor Bears (34-15) scored in the 1st and 4th innings on not one BUT two home runs – then added three runs in the 6th and 8th innings.
Unfortunately this isn't what we wanted for our OU Baseball team but they went out swinging! Head coach Skip Johnson stated,"I thought Cade (Cavalli) was really good, one of his best outings. If you look at most of his starts this year, he's had four, five, six walks along with six strikeouts. He had five strikeouts with two walks today. (Leaving two runners on in the fourth) was a big momentum swing for us and when you don't take the momentum, good teams, quite frankly, do that to you." Also, on another good note Cade Cavalli struck out five batters, walked two. They took on Texas Christian University this past week for an elimination game at Bricktown Ballpark resulting in an unfortunate loss.  
Not an ideal end of the season but we are proud to cheer on the OU Baseball team and all their hard work this past season! They have proven they are a force to be reckoned with.