Oklahoma is for Auto-Lovers & Enthusiasts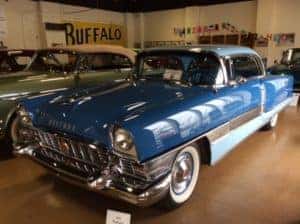 With its lush rolling hills and plethora of hidden local gems, Oklahoma makes the perfect road trip destination for auto-lovers and enthusiasts alike. Starting with the infamous Route 66, you'll find several impressive automobile collections, museums, and even drive-in theaters for your entertainment. We've gathered some of the best car-centric locations you've absolutely got to visit while you're in the great Sooner State.  
Oklahoma Route 66 Museum — Clinton, Oklahoma
Starting in Clinton, Oklahoma, you'll find the Oklahoma Route 66 Museum. Learn about the history behind one of the country's most well-known highways, the migration of Americans out of the Dust Bowl and into the West, and experience the 1950s like never before at this quintessential tourist attraction.  
Afton Station Route 66 Museum — Afton, Oklahoma
Drive on down the Mother Road to Afton, Oklahoma to experience the Afton Station Route 66 Museum. Self-proclaimed as an "old fashioned tourist trap," this charming museum features classic automobiles as well as vintage Route 66 souvenirs you can't see anywhere else. Bonus attraction: "The Cleanest Bathrooms in Afton" are located in this museum, so it's definitely worth a stop.
National Rod & Custom Car Hall of Fame Museum — Afton, Oklahoma
A grand homage to some of the greatest custom hot rods ever made, the National Rod & Custom Car Hall of Fame Museum is also in Afton, Oklahoma. Housed in a 40,000 square foot facility, the National Rod & Custom Car Hall of Fame Museum features over 50 different exquisitely exotic custom cars and wall-to-wall memorabilia to spark the imagination.
Winchester Drive-In Theater — Oklahoma City, Oklahoma
One of only seven, the Winchester Drive-In Theater is the oldest theater of its kind in Oklahoma. With a capacity of 475 cars, it's easy to bring along friends and family for this unique film watching experience. Plus, there's even a playground for the kids if they can't stay attentive.
The Muscle Car Ranch — Chickasha, Oklahoma
Lastly, the Muscle Car Ranch located in Chickasha, Oklahoma is a definite must-see for all car enthusiasts. Boasting hundreds of thousands of vehicular artifacts on over 60 acres of land, the Muscle Car Ranch is only 35 miles away from Route 66 and even offers visitors the chance to stay at their onsite RV park.  
Need the perfect car for this awesome automotive road trip? We've got you covered! Come see us at Landers Chrysler Dodge Jeep Ram of Norman today–click here!