Mopar Accessories debuts over 100 factory-approved parts for the 2021 Ram 1500 TRX!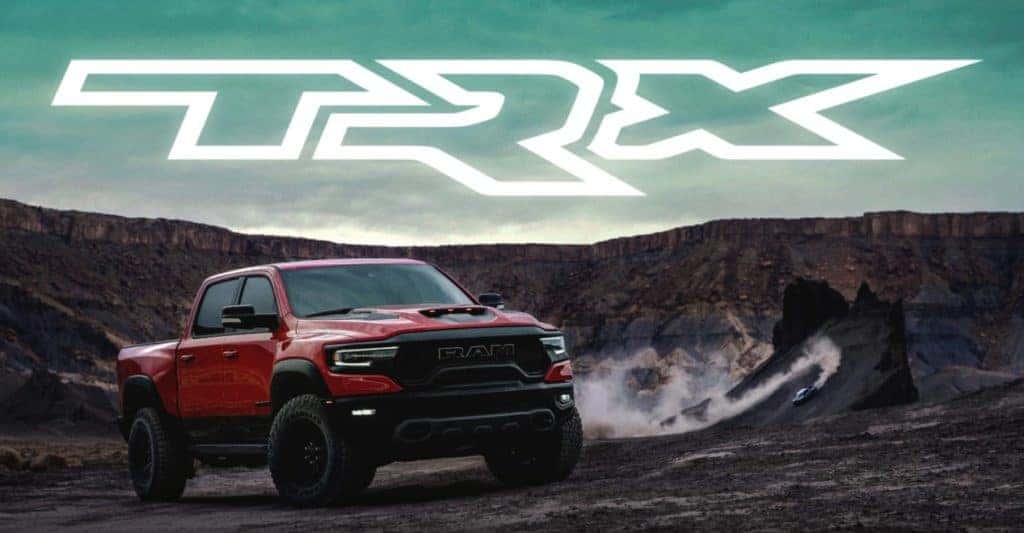 After many years of waiting for the "Hellcat Ram," a lot of us here to Landers CDJR of Norman are counting the days until we get the all-new 2021 Ram 1500 TRX on the lot. The new Big Dog of the truck world, the 2021 Ram 1500 TRX features a 6.2-liter supercharged V8 pushing out an incredible 702 horsepower, making the Ram TRX the most powerful and quickest truck every produced from the factory!

Ram and Mopar Accessories have always been about helping our customers not only buy a long-lasting and dependable truck, but also to trick it out to create the truck of their dreams that truly reflects their style and personality. With that in mind, Ram and Mopar recently rolled out a list of over 100 factory-engineered parts and accessories for the 2021 Ram 1500 TRX, all designed to fit right the first time and to give your TRX even more attitude! Each has been torture-tested to make sure it's tough enough to keep up with the fastest and most powerful 4×4 on the planet. 
"The all-new 2021 Ram 1500 TRX is the most extreme off-road production pickup truck on the planet," said Mark Bosanac, Head of Mopar Parts. "With a full catalog of more than 100 factory-engineered, quality-tested Mopar performance parts and accessories, Ram 1500 TRX customers can further enhance their truck to tackle the toughest conditions."

Here's a sample of just a few of the parts that will be available to help trick out your 2021 Ram 1500 TRX when they hit the lot at Landers CDJR later this year. Want to get in on the fun? Contact us today to reserve your 2021 Ram 1500 TRX, the Apex Predator of the truck world!
TRX RamBar
PRICE $1,195
Part Number: 82215959AC
Since the dawn of 4×4 truckin', a burly light bar was a popular accessory. For the Ram TRX, Mopar has whipped up the RamBar, an accessory that ups the utility of your bed, makes it possible to mount off-road lighting, and mounts quickly and easily using the factory stake pockets of the truck bed. It's made of powder-coated tube steel for years of reliable service while looking great, and is specifically engineered to work with Mopar's off-road 5-inch LED lights (Part # 82215274AC).
Bed-mounted spare-tire carrier
Price: $995
Part Number: 82216108AA
The 4×4 2021 Ram 1500 TRX is a high-speed desert runner, capable of getting you out beyond where most factory vehicles dare not tread. When you're headed waaaay out to where the tow trucks can't roam, you've got to be prepared for anything, and that includes bringing along a full-size all-terrain spare. Mopar's bed-mounted spare-tire carrier helps get that done while giving the TRX that burly, ready for anything flair. Made of thick-gauge, welded tubular steel with full corrosion protection, it can hold up to a 37-inch spare tire and removes easily if you need to use your truck bed for hauling.

Off-Road Rock Rails
PRICE: $1,195
Part Number: 82216078AB
When you're taking on the outdoors, you still want to come back home with a truck that doesn't look like it's been through the wringer. Helping your 2021 Ram TRX keep its shiny paint and lower panels in tip-top condition no matter what the trail throws your way are these heavy duty tubular steel rock rails. Engineered to provide heavy protection from hazards like rocks, stumps and other obstacles, they're made of military-grade aluminum with high-strength steel brackets, topped off with heavy black powder coating for a tough-as-nails look, plus integrated step pads to help you get in and out of the cab with ease. 
Beadlock-capable wheel rings
Price: $205 each
Part Number: P5160250AA
One of the details that makes the 2021 Ram 1500 different from the rest is one of the things that might be easiest to overlook if you're not a hardcore off-roader: factory beadlock-capable rims. Designed to allow you to decrease the pressure in your tires for maximum grip on rocks and uneven terrain by mechanically clamping to outside "bead" of the tire to the rims to prevent blowouts, beadlocks are a great bit of insurance out on the trail if you're planning to do some real rock crawling. These beadlock-capable, forged-aluminum wheel rings from Mopar are designed to help you accomplish that, and look incredible on road or off. 
All-weather floor mats
Price: $165
Part Number: 82216412AA
Mopar isn't about only dressing up the outside of your 2021 Ram 1500 TRX. They've got some tricks for the inside, too! The 702-horsepower Ram TRX is sure to be a mud-slinging fun machine, so keeping the mud, dust, dirt and debris it kicks up outside to help keep the interior looking great is a top priority. Mopar's got your back, with these all-weather floormats. Featuring a bucket-style design that's made to trap mud, water and muck on the mat and off the carpet, these black floormats are made of heavy-duty rubber and feature a red Ram logo to wear your TRX pride proudly. The set includes two front mats designed to fit the 2021 Ram 1500 perfectly, along with a matching second-row runner that spans the full width of the cab.

We cannot WAIT to get our first 2021 Ram 1500 TRX on the lot here to Landers CDJR of Norman. We're just days away from receiving our first shipment of 2021 Ram 1500 trucks, which means the mighty TRX won't be far behind. Want to buy a 2021 Ram TRX in Norman, Moore of Oklahoma City? Then come to the dealership with the factory relationships and buying power to help you get your hands on the most powerful factory truck in HISTORY: the 2021 Ram 1500 TRX! Come see us today, or reach out to our finance professionals soon. We look forward to helping you put the fun back in your weekend and daily drive!