Landers CDJR of Norman Earns Dealer of the Year and Consumer Satisfaction Awards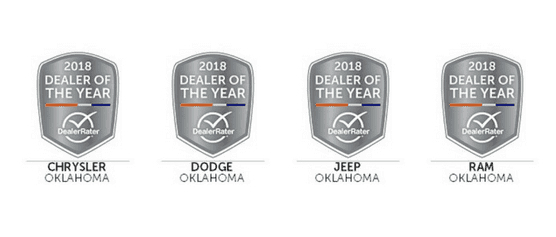 Just last year, the Landers family made the jump to bring our southern hospitality and passion for all things auto beyond Arkansas and into the great state of Oklahoma. This year, we're thrilled to announce that Landers Chrysler Dodge Jeep Ram of Norman was honored with the title of 2018 Dealer of the Year, awarded by DealerRater.
DealerRater.com, the world's leading car dealer review website, recognizes a select number of dealerships in each state with this prestigious award annually. The award is based on outstanding customer satisfaction as expressed through customers' online reviews posted on DealerRater. We were eligible to take the title in the categories of Chrysler, Dodge, Jeep and Ram for Oklahoma, and we received the award for all four categories.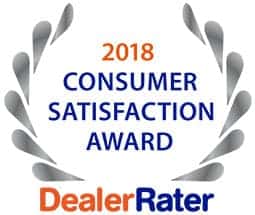 Landers CDJR of Norman was also given the Consumer Satisfaction Award for Chrysler, Dodge, Jeep and Ram in addition to the Dealer of the Year titles. The Consumer Satisfaction Award is given to the top 10 percent of U.S. dealerships based on their "PowerScore", which is determined by an algorithm that focuses on the content and frequency of reviews and ratings.
The team here at Landers CDJR of Norman is elated and honored to accept these awards. We are dedicated to upholding the values of honesty, enthusiasm and excellent customer service in a friendly, no-pressure environment. We don't do it for praise or ratings, but we are proud to be recognized by DealerRater for our commitment to our customers.
If you are one of those customers who left us a rating or wrote a positive review, thank you. You are the reason that we were given these awards, and you are the reason we do what we do. At the end of the day, it's all about helping our customers reach their goals and welcoming each of you into the Landers family.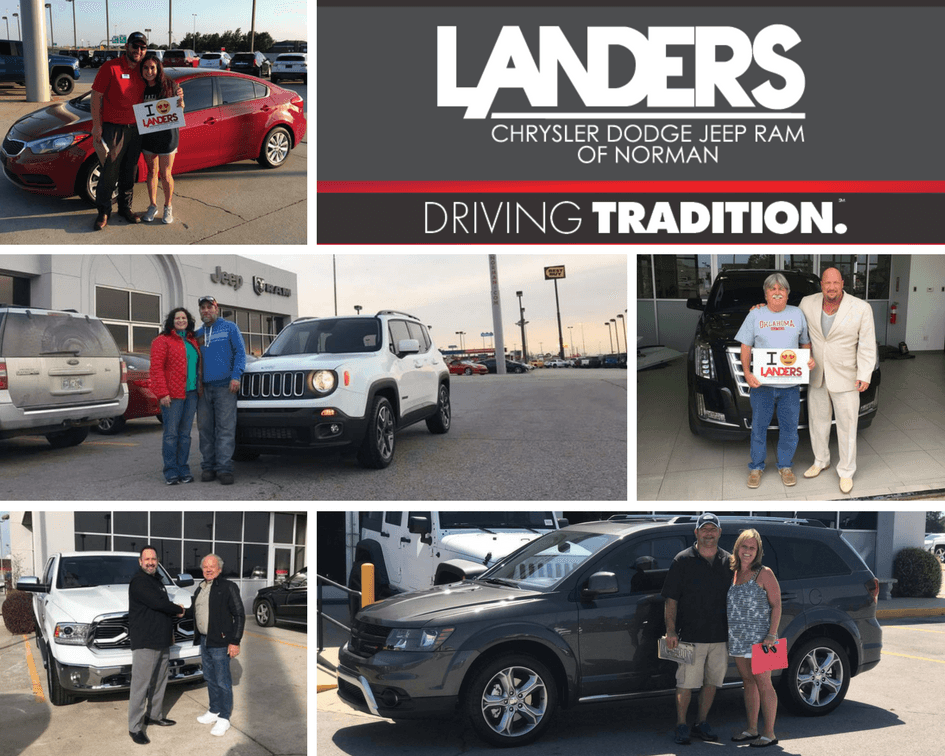 If you've never paid us a visit here at Landers CDJR of Norman, we hope these titles help to show you what we're all about. Sometimes it's easy to find the vehicle you're looking for, but it's difficult to find the service you deserve. We are committed to providing that service to you from the moment you step foot in our dealership, to the time of purchase, to every service appointment throughout the years.
If you want to stop by and check out Landers CDJR of Norman in person, we would love to have you! We can set you up for service, help you look for a new vehicle, or just answer any questions you might have about cars. If you're in the market for a new vehicle, you can also browse our inventory right on our website.
Get directions to Landers Chrysler Dodge Jeep Ram of Norman