K's for Kids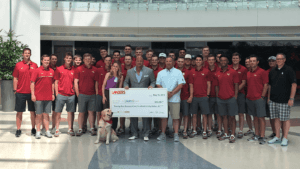 Here at Landers we make a living by selling vehicles, no way around that. That's what our days are about. Buying, selling, servicing vehicles, sweet custom styling work, oil changes, putting air in your tires — we meet all of your car needs! However at Landers Auto Group of Norman, we are so much more than a car dealership. We are about community. We are about tradition. We are about making a lasting impact.
Once the Landers family moved to Norman, we fell in love with this town. We genuinely care about supporting this community enough that we love to spend time and money on our Norman family. That's why we're proud partners of Sooner Athletics!
Together with the OU baseball and OU softball teams, Landers Auto Group of Norman kicked off K's for Kids in 2018. The proceeds all go to The Children's Hospital at OU Medical Center in Oklahoma City, but specifically the funds go toward the hospital's therapy dog program. These therapy dogs are for the oncology floor of Children's Hospital in particular.
We're bringing K's for Kids bac this year, and for every OU Sooner strikeout this baseball and softball season, Landers Auto Group will donate $20 to OU Children's Hospital. These dogs are trained to be at patient's side within a moments notice. The dogs support patients during procedures, intensive care, surgical settings and any other high-stress times kids might need them. Combining clinical care with the affectionate comfort of a therapy dog has already been a huge success, and we want to continue contributing to making this an even bigger success!
In 2018, the Sooners threw 843 strikeouts, which amounted to $25,290 to the Children's Hospital! Each dog costs around $125,000, so we were able to cover roughly 20 percent of the purchase and training of another dog. Every Monday throughout the season, we will be posting updated totals on our social media platforms, so be sure to follow us! Landers Auto Group is proud to be a partner of Sooner Athletics and we look forward to another successful year with K's for Kids!