Jeep Wrangler Truck: What to Expect | Steve Landers Auto Group
It's been 25 years since Jeep has rolled out a pickup truck, and Jeep enthusiasts everywhere are anxiously awaiting the newest Jeep addition, the 2019 Jeep Wrangler Truck. The concept has been teased a lot over the years, but Jeep has never officially announced plans to start producing the vehicle until now—and we couldn't be more excited. There's still a lot of information we don't know yet, but the team at Steve Landers Auto Group gathered everything we do know so far so we can give you the latest scoop.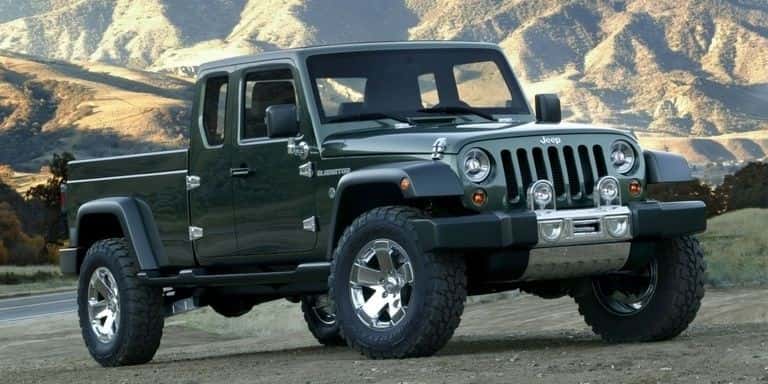 The above photo is from back in 2005 when Jeep introduced the Gladiator Concept, which was described at the time as "a lifestyle pickup with all the capability of the famed Wrangler." A few other concepts have come out in the time since then, although none of them ever made it to production. We can't say exactly how similar the new Jeep truck will be to the Gladiator concept, but it's the best visual we have to go off of for now—and we have to admit, this looks pretty awesome.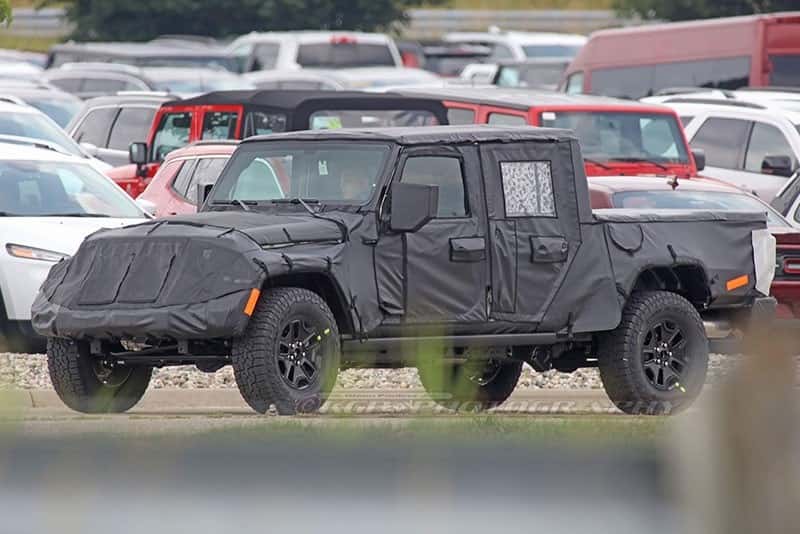 The actual photos we have so far look a little more like this. We can definitely see some similarities to the Gladiator concept through the camouflage, but some notable differences as well. You can clearly see that this model has four doors, like the Wrangler Unlimited—but according to the latest renderings, it looks like it will be available as both a four-door and a two-door. It has a longer wheelbase than the Unlimited, which should give plenty of space for a crew cab and spacious cargo bed. We can pretty much count on this new Jeep to look a lot like… well, a Wrangler with a truck bed. Of course, loyal Jeep fans wouldn't have it any other way.
So we have a pretty good idea that the truck will sport that iconic Jeep look on the outside, but what about on the inside? We know the new Wrangler is supposed to get a huge interior upgrade, with the latest UConnect technology along with it. Since the truck will be based on the new Wrangler, we have a feeling we'll see that in the pickup too. We're also expecting to see a lot more aluminum in the construction of the truck, which Jeep owners will be thrilled to know should be quite helpful for fuel economy.
Speaking of fuel economy, Jeep is said to be developing a new 300-horsepower turbocharged inline-four cylinder engine, perhaps as an optional upgrade from the 3.6-liter, 285-hp Pentastar V6 that's used in the current Wrangler. It's also looking like the truck might have a diesel option with auto start/stop.
The Wrangler-based pickup is rumored to be called the Scrambler, although it's not officially confirmed. From what we can tell, the pickup will come with a choice of three different removable roofs including a three-piece black or body-colored roof, and a Sunrider premium soft top.
There's a lot to look forward to, and there's much to still be uncovered about the upcoming Jeep Wrangler Truck. Unfortunately, Jeep fanatics are going to have to wait a little bit longer. As of right now, the Wrangler pickup is set to go into production in late 2019. Once it does roll out, though, we don't think this vehicle is going to have any trouble flying off the lot. America loves pickup trucks, and America loves Jeeps. This truck is likely to be one hot commodity!
In the meantime, you can browse the online inventory of Jeep vehicles through Steve Landers Auto Group. Steve Landers Auto Group has locations throughout Arkansas and now in Norman, Oklahoma.