Jeep Wrangler Rubicon: The Only Car We'd Trust in The Walking Dead Zombie Apocalypse.

With Halloween and Season 8 of The Walking Dead rapidly approaching, we started thinking. If we were stuck in the middle of the zombie apocalypse with Rick Grimes and the rest of the crew, which car would we trust to be our escape vehicle?
Okay, so we know the whole Zombie thing has never actually happened… yet… that we know of. But that doesn't mean it's not a very real possibility, and we want to make sure we're prepared! In case you've never seen The Walking Dead before, you should know that vehicles are extremely important during the Zombie apocalypse. They can take you from town to town looking for supplies, help you escape hordes of zombies that are trying to attack, serve as protection when you need to rest, illuminate the scene with their headlights, store all your gear… the list goes on. The point is, if your escape vehicle is a wimpy sedan or an SUV that's easy to tip over, you're going to have a bad time. Just ask all those Zombies roaming the interstate in Season 1…
We decided that the only car we'd trust in the zombie apocalypse is the Jeep Wrangler Rubicon—hands down. This Jeep is the ultimate off-roader, and it has all the right features and capability to make sure you stay protected from the undead. Think about it. It's the perfect escape machine.
First of all, the Wrangler Rubicon really is the perfect representation for the Go Anywhere, Do Anything Jeep motto. Could anywhere mean away from the zombies? Could anything mean survive the zombie apocalypse? We like to think so. This thing has more than 10 inches of ground clearance and the ability to effortlessly tackle just about any terrain you could think of—including the deepest snow, biggest rocks, grittiest sand and thickest mud. It has a 4×4 system that was designed to suit all kinds of off-road challenges and driving conditions. It can literally climb up walls. So, yeah, it can probably take on a pile of zombies and abandoned cars.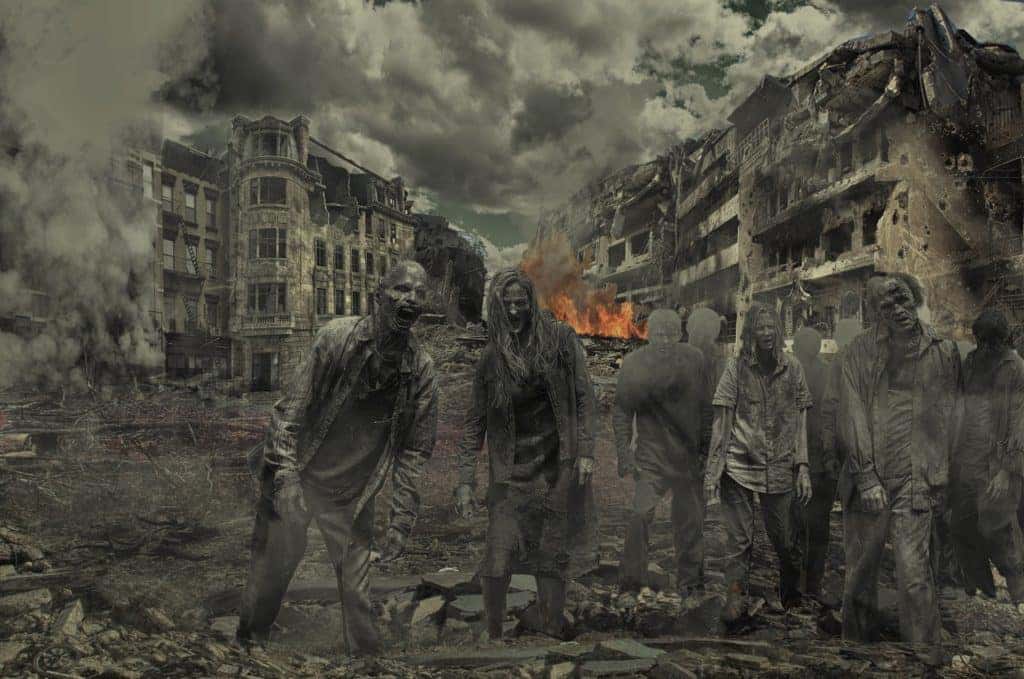 The 2017 Jeep Wrangler Rubicon also offers standard Dana 44 front and rear axles equipped with Tru-Lok locking differentials for ultimate traction. So as slippery as those zombie guts are, even if you're driving over a loose pile of rubble, your Jeep will keep you on the right track. It also comes with a sway bar disconnect system that will automatically disengage the front sway bar when you're driving under a certain speed, so the front wheels can drop and compress about 30% further. Can your Zombie escape vehicle do that?
Of course, another plus to having a Rubicon on your side is the ability to help other people. The Rubicon comes with steel front and rear tow hooks, which are extremely useful for rescuing less capable escape vehicles. It also has heavy-gauge steel skid plates to keep passengers more safe and secure, even in dangerous situations. So you'll be well on your way to building your little community of survivors, like Daryl and Dale (RIP).
Even pickup trucks, which might seem like a good option, have their limitations. First of all, they're pretty large. Jeeps have the ability to not only take on any kind of terrain, but also squeeze through tighter pots than a large pickup could. Jeeps are also more fuel-efficient than trucks, which could make a huge difference when you're having to scavenge for gas. Not to mention the fact that a truck bed is basically just begging for zombies to hop up and climb aboard… no thanks.
If you already have a Jeep Wrangler Rubicon, you definitely have a better chance of being a survivor once the zombie apocalypse comes. Our only advice would be to store some water bottles and extra gas cans in your Jeep, just in case. The fewer supply runs, the better! Right, Glenn?