Jeep Joins the Fight Against Terrorism With Bulletproof Grand Cherokee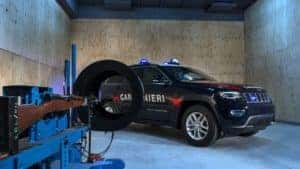 It's a surprising headline no doubt, but it is undoubtedly true — Jeep has joined the global war on terrorism by designing and building a fleet of bulletproof Jeep Grand Cherokees for the Italian policemen, the Carabinieri. Providing them with a 19-deep fleet of these anti-terrorism Jeep Grand Cherokees, Jeep has ensured these automobiles would be able to get the job done regardless of who the Carabinieri anti-terrorism unit may be after. These decked-out Jeep Grand Cherokees have been specifically prepared with bulletproof bodywork, windows, a stronger suspension for better handling and load-bearing, tons of lights and communication gear, and they even include run-flat tires. They also run on diesel and, of course, are readily equipped with all-wheel-drive.
Though this news may come as a surprise to some, Italy and Jeep actually have a great, long-standing relationship and the country uses many Jeeps in its fleet already to protect their citizens. Over 1,000 Jeep Renegades, as well as a single Jeep Wrangler, are presently presiding over the cities of Italy prepared to spring to action at a moments notice. Unfortunately for us on this side of the world, Jeep doesn't currently offer this type of super-Jeep in the United States so it's unlikely we'll see one in person anytime soon. However, Jeep's cousin company Dodge does sell police-ready versions of the Dodge Durango and Charger. You can check those out by clicking here! Until Jeep decides to bring these souped up Jeeps to our side of the world, we'll just have to stare in envy of the Italians from afar. With Jeep Grand Cherokees like these, we hope they stop all of the terrorists.
We're sorry the bulletproof Jeep isn't available customers just yet, but we here at Landers Chrysler Dodge Jeep Ram of Norman have an awesome selection of Jeeps ready for your shopping pleasure — just click here to visit us today.