Jeep debuts the Jeep Grand Wagoneer three-row SUV prototype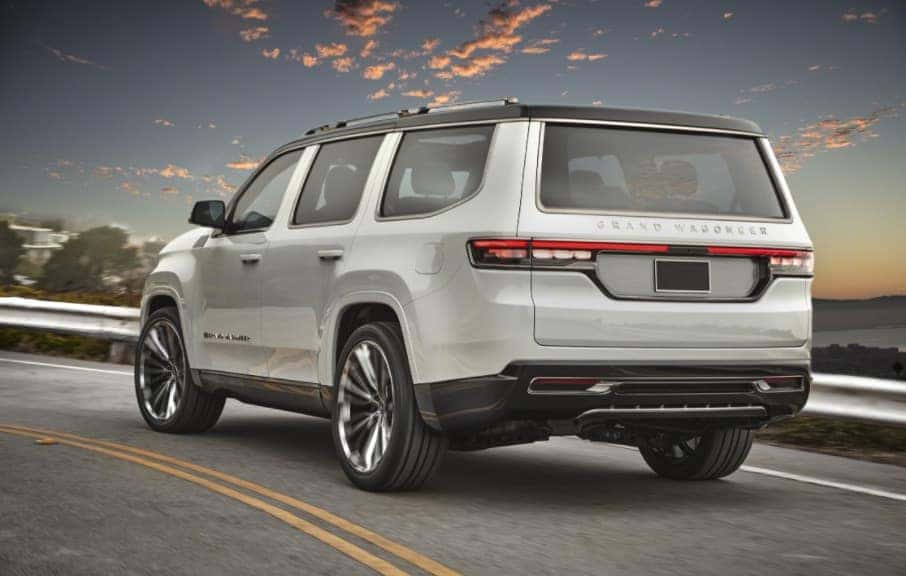 Since the introduction of the originally Jeep Wagoneer way back in 1963, Jeep has been all about building SUVs that help great American families get to great American SUVs. One thing that has long been lacking in the stellar Jeep family of vehicles, however, has been a true, full-size three-row SUV to compete with vehicles like the Ford Expedition and the Chevy Suburban.

It looks like that oversight will soon be remedied, however! Jeep recently took the wraps off the all-new Jeep Grand Wagoneer concept vehicle, which they plan to begin building for sale as a regular production model as soon as next year! Bigger, more spacious, more powerful and more luxurious than any Jeep vehicle in the brand's history, the 2021 Jeep Grand Wagoneer is coming soon to Landers CDJR of Norman and it's going to be a game changer for Oklahoma families.

"The original Grand Wagoneer was the first premium SUV, and its timeless design combined with the soul of Americana helped it achieve an iconic place in many hearts," said Ralph Gilles, head of design for Jeep parent company FCA. "The Grand Wagoneer Concept is inspired by the original, but with a modern interpretation of luxury and freedom. We strived to create an elegant design with a timeless silhouette, featuring countless beautifully crafted details that come together to give it an undeniable presence."
Let's dive in to a little of what we know about this incredible new SUV from Jeep.

EXTERIOR
Jeep is all about the perfect blend of heritage and modern styling, and the 2021 Jeep Grand Wagoneer will carry on that great tradition with a look that is unmistakably Jeep. That starts front and center, with a bold and glittering take on the traditional Jeep seven-slot grille, which goes upscale with an insert of beautiful latticework and Obsidian Black detailing. The grille is lit by hidden LEDs, for a 21st Century look that will announce your presence day or night. Just above that grille, Jeep has spelled out "Grand Wagoneer" in beautiful chrome lettering.

Flanking the grille are twin bi-functional LED projector headlights in a cradle of genuine, weatherproof teak wood, while below is a sturdy aluminum skid plate in Obsidian Black with frame-mounted front tow hooks.
Seen in profile, the Jeep Grand Wagoneer strikes an imposing form, with the prototype rolling on 24-inch multi-spoke wheels, framed by iconic Jeep trapezoidal wheel arches, which have been a hallmark of Jeep style since the 1940s. "Grand Wagoneer" is again spelled out on the bottom of each front door, paired with a chrome American flag as another callback to Jeep's proud history serving our nation.
In the rear, LED taillamps wrap onto the rear quarter panels to help the Grand Wagoneer's design flow into the rear fascia. Above the large rear hatch is a functional rear diffuser that aids the Grand Wagoneer's aerodynamics, helping it cut through the air with less fuel while minimizing wind noise at highway speeds.  

INTERIOR
"The Grand Wagoneer Concept's interior is spacious and features premium materials that accentuate our team's obsession to detail and celebrates American craftsmanship," Gillessaid. "A full digital cockpit takes advantage of leading technologies that are beautifully presented with expansive and easy-to-use screens and limited buttons, allowing the focus to be placed on a pleasant and intuitive experience for the driver and passengers."

Inside, the Jeep Grand Wagoneer is all about the ultimate in luxury and comfort, while not forgetting the purpose-first functionality that made Jeep an American legend, with seating for up to seven adults in comfort. Up above, the Jeep Grand Wagoneer prototype shown to the public lets the sky in with a full-pane glass roof, with four tie-down loops for tying on items you need for adventure.

The prototype includes first and second-row captains chairs with a bench-type third row, and utilizes soft, ambient lighting throughout the cabin to make the interior a warm, inviting space. Large windows give access to all the sights passing by, In front, the two-spoke steering wheel is a retro-modern throwback, while hidden touches showcasing the Wagoneer's long history are everywhere, including an inscription inside the instrument panel that reads: "Est. 1963," a reference to the Wagoneer's original introduction year.

Inside the Grand Wagoneer, craftsmanship and careful materials choices are on display, through the use of polished aluminum trim throughout, include on the door speakers, shift knob, vent surrounds and shift knob. Genuine heat-treated lacewood is also used extensively inside the Grand Wagoneer, while the seats are made of recyclable microfiber suede and PUR, a sustainable alternative to natural leather that is used on the seating, console, door and instrument panels. 
POWER
While details are scant on what power trains and engine choices will propel the Grand Wagoneer, the concept vehicle that debuted in early September features a plug-in hybrid powertrain that offers the fuel efficiency and eco-friendliness of an electric, with the power and range of a traditional gasoline-fueled vehicle. The Grand Wagoneer's hybrid gas-electric hybrid powertrain is part of a move by Jeep toward being the world leader in producing more sustainable vehicles. That includes the all-electric Jeep Wrangler 4xe, which debuted on the same day as the Grand Wagoneer.

We don't know about you, but we're stoked to hear when Jeep plans to put the all-new Jeep Grand Wagoneer into production. Want to buy a Jeep Grand Wagoneer in Norman, Moore or Oklahoma City? We've still got some time to wait, but stay tuned to the social media accounts of Landers CDJR of Norman for the latest updates on this incredible new SUV from Jeep. Can't wait? Check out our full lineup of rugged Jeep SUVs at our website right now.