Home for the Holidays: RAM Trucks in Macy's Thanksgiving Day Parade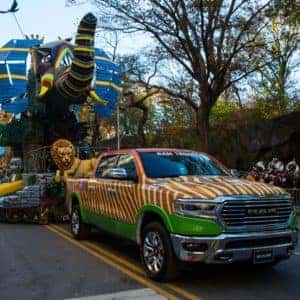 Did you catch your favorite Ram trucks on TV this past Thanksgiving? If you caught the famous Thanksgiving parade that's been around for years and years, you may have spied a familiar set of horns at the base of some of the floats. That's because Ram is the official truck of the Macy's Thanksgiving Day Parade, and has been for the last four years. Over twenty different Ram trucks helped tow the floats in the annual Turkey Day parade, and this was the first year that two different Ram trucks were fully wrapped to match their float designs! That means that instead of standard Ram truck color options, these special trucks were custom-designed to match the respective floats they were pulling.
For the Splashing Safari Adventure by Kalahari Resorts and Conventions, their wild, animal-covered float utilized a Ram truck (pictured above) that was wrapped to look like it belongs in the middle of a safari with its funky animal stripes and bold colors. Mount Rushmore's American Pride float by South Dakota Department of Tourism, on the other hand, featured a Ram truck wrapped to look like the mountainside leading up to the epic Presidental monument (pictured below.) With a fully-wrapped Ram truck leading the way, these two different floats were able to achieve an impressive effect as their theme was able to stretch across the entireties–even the truck pulling it!
Ram provided Macy's Thanksgiving Day Parade with a total of 65 different trucks and vans to make all of the Turkey Day magic happen. Several Ram ProMaster vans were used to perform many behind-the-scenes functions, while the mighty Ram trucks were primarily used for all of the towing and hauling. Continuing their amazing support of festive parades, Ram trucks will be heading to the 2018 Nashville Christmas Parade benefiting the Monroe Carell Jr. Children's Hospital this Saturday, Dec. 1, to help tow all of the floats for that parade as well.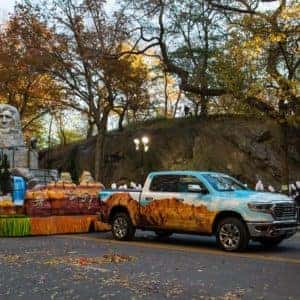 Want to learn more about the mighty towing power of Ram trucks? Click here to visit Landers Chrysler Dodge Jeep Ram of Norman today!