Have You Earned a Jeep Badge of Honor?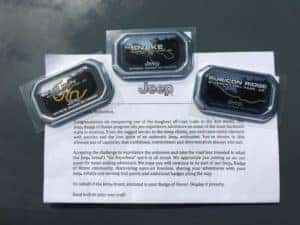 When you own a Jeep, you suddenly become part of a longstanding legacy of Jeep-owners. Jeeps are not only known for their superior off-roading ability, but also for the passionate community that comes along with them. The newly introduced Jeep Badge of Honor program is the ultimate blend of the two, taking the love of the trail and bringing it into a flourishing online fanbase. Through the Jeep Badge of Honor app (available on both the Apple App Store and Google Play Store), you can visit different off-roading trails, connect with other Jeep-lovers and even earn hard badges to place on your Jeep and to show off to Jeepers and fans alike. And did we mention its totally free?
Although the app is free for anyone to download, only true Jeep owners are eligible to receive badges. Dare to take on one of the 49 Jeep Badge of Honor off-roading trails highlighted in the app, and you can receive one of the nifty hard badges as shown above along with a letter of congratulations from Jeep. Once in the application, browse the available trails to see which one is closest to you and the app will conveniently tell you local weather as well as how many hours of daylight are left. Drive to your desired trail and simply check-in to the Jeep Badge of Honor app to let it know you're there. You don't have to actually accomplish the trail to earn the badge, but you are encouraged to take on the paths less traveled. To receive the hard badges, go into your profile and select "View & Request Badges" to submit a request–just make sure you have your Vehicle Identification Number (VIN) ready for verification as the app will definitely ask for it. Once finished, it takes anywhere from 8-12 weeks to receive the badge, so get out there and start tackling some trails!     
Need to get a Jeep so you can start earning some badges? View our selection here. 
Click here to visit Landers Chrysler Dodge Jeep Ram of Norman today!