Halloween Special: Ghostly Legends of the OU campus!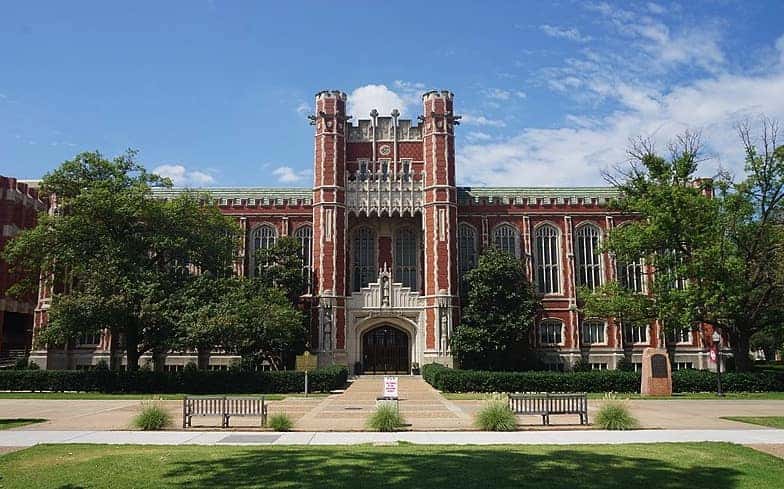 Like a lot of college campuses around the nation, the University of Oklahoma has accumulated quite a few tall tales about its grounds, facilities and buildings since OU was founded back in 1890. Some, like the legend that you're guaranteed to marry your sweetheart if you kiss them while in the famous "Spoonholder," are bright and cheerful. Other stories about the campus, however, take a turn for the macabre, with generations of incoming freshmen and outgoing seniors helping to spread OU's ghostly tales.

Far from shying away from this dark bit of myth making, OU has embraced these stories as a fun part of campus lore. Though they have been seriously curtailed due to the Covid-19 pandemic, OU hosts monthly ghost tours of the campus from March to November, led by Freshman Programs Instructor Jeff Provine. Money from tickets to the tours donated to a fund that provides scholarships for OU students, with more than $2,200 donated so far. Find more information about the tours here.

We're proud of our partnerships with OU here at Landers CDJR of Norman, and that includes their commitment to shining a spotlight on fun, creepy stories told about the campus. In honor of Halloween fast approaching, seen below, check out our retelling of two OU campus legends of things that go bump — or, in one case, bark — in the night. And if you need a great new or pre-owned vehicle to take you on ghostly adventures throughout the great state of Oklahoma and beyond, stop in today at Landers CDJR of Norman, or check out our full selection of reliable vehicles online right now.
ELLISON HALL
Located to the west of Bizzell Memorial Library, Ellison Hall, originally called Hygenia Hall, was completed in 1928 as OU's first hospital clinic and infirmary. It was later renamed to honor Dr. Gayfree Ellison, who had served as OU's Director of Student Health until he died in 1932. While no longer helping students recover from bumps, bruises and flu, the building is still a vital hub of campus life, with the Cal Hobson Student Services Center located on the first floor. The stories of ghostly activity at Ellison Hall, however, date back to its days as a campus infirmary. Some legends say that during the 1950s, a young boy who had been roller-skating on nearby Elm Avenue darted into traffic and was struck by a car. Other versions of the story say the roller-skating boy suffered an asthma attack. Whatever the case, he was brought to the infirmary at Ellison Hall, where the staff was unable to save his life. It's said that the boy on roller skates still haunts the second and third floors of Ellison Hall to this day, with many hearing the distinctive sound of roller skate wheels on the hard floor as he zips past. Other eyewitnesses have reported knocking on the walls of empty offices, lights turning off and on, and the sound of ghostly voices and clinking cups and plates when the building is otherwise empty. Paranormal investigators have looked into the stories several times over the years. What they found was inconclusive, but stories of the ghosts of Ellison Hall keep rolling along.

GAYLORD MEMORIAL STADIUM
Everybody loves a great story about a cute pooch, but a ghostly dog licking your hand might be more than a little ruff to handle. As many fans of Sooner Football are aware, the current site of Gaylord Memorial Stadium has been the home of OU Football since the 1920s, with the first game played on the site of the current stadium in 1923. Then called Oklahoma Memorial Stadium in honor of OU students who perished in Europe in World War I. Since then, the stadium complex has been extensively expanded. When the stadium first opened in the 1920s, however, there was another big difference between OU Football then and now; namely: the mascot. Between 1915 and 1928, the official mascot of OU football was a small terrier named Mex. Found by Army field medic Mott Keys in 1914 when Keys was stationed on the Mexican border during the Mexican Civil War, the scrappy little mutt came back to OU with Keys when he got out of the service and decided to attend OU. Soon after, Mex — dressed in a red sweater and hat — became the mascot and good luck charm of OU football, serving in that role until 1928, when the little dog finally passed away. When he did, he was so beloved that he was buried somewhere on the football field in a small casket, with many Sooner fans in attendance. The ghostly turn to the story is that Sooner fans at Gaylord Memorial Stadium sometimes report seeing a small dog in a red sweater among the crowd, while others have reported feeling a ghostly dog lick their fingers or jumping up on their legs. Whatever the case, it's nice to think that little Mex is still helping cheer the Sooners on to victory, as he was when he was alive.