Fall Fun: Norman in October | Landers CDJR of Norman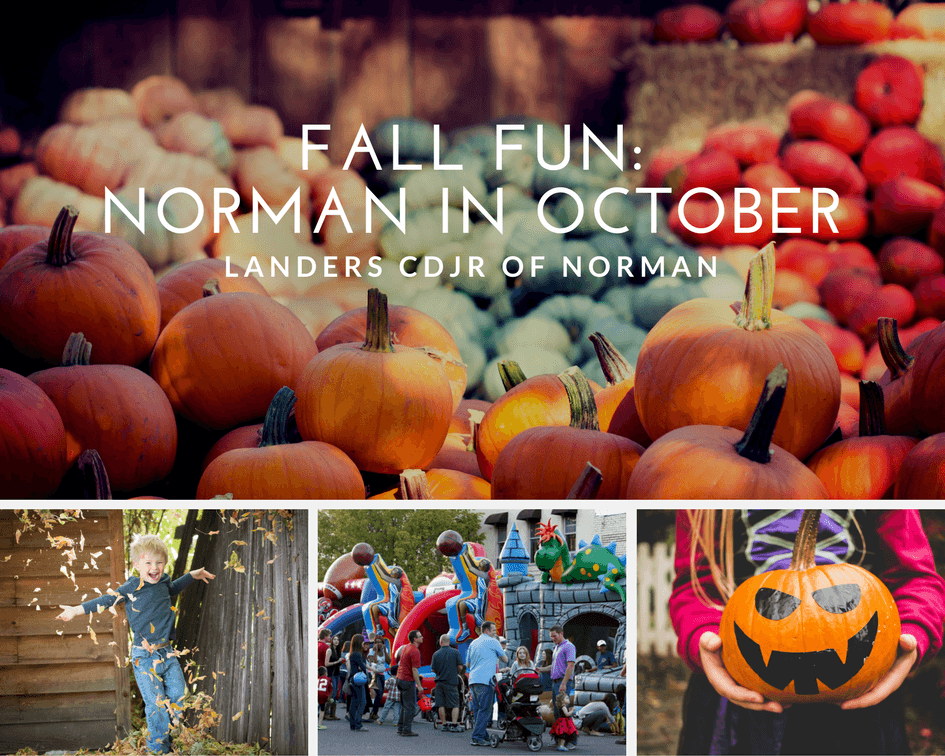 It's a fun and festive time here in Norman. A time of beautiful fall foliage, Oklahoma's best festivals, Halloween hoopla and the crisp October air. It's the first full autumn month, and there's no better place to be during this time of year than Norman. There are so many fun things to do for people of all ages, from Norman families to young singles to retired couples. The Landers team wants to encourage you to get out there and experience October in Norman this year, so we're going to help you out. Read on to learn about some of our favorite events coming up this month in Norman!
Norman Farm Market
If you live in Norman and you haven't been to the Norman Farm Market yet, you're seriously missing out. Did you know it's the oldest active Farm Market in Oklahoma? That's okay though, because there's still time! The Norman farm market will stay open until the end of October, and there's really no better time to go. Drive over in your Ram pickup or Jeep so you'll have plenty of cargo space to load up on Farm Market finds. Right now, they're selling all kinds of fall fresh goodies like pumpkins, squashes, yellow sweet onions, okra and watermelon. You can always find locally-made treats like "2 Okies" salsa and "Wild Horse Canyon" wines, plus all the Halloween specials offered this month! So hop in your truck and head over to the Cleveland County Fairgrounds any Saturday morning from 8-noon or Tuesday evening from 4-7 until October 31!
Mix on Main
The third annual Mix on Main event is coming up on October 20, and you won't want to miss this one. There's no better event to bring the community together, because this shindig is all about Norman. Mix on Main features local businesses promoting the continued renaissance of Main St., bringing people together and raising the profile of Norman. It's a great opportunity to mix and mingle with the friends and fans of Main Street while listening to live music, enjoying tasty food trucks, getting henna tattoos, and browsing the local boutiques. There's glow golf for the kiddos along with beer and wine gardens for the grown-ups, so there's plenty of fun for all ages! Admission is totally free and there's a little something for everyone, so there's really no reason not to attend.
OK Wine Walk & Brew Fest
If you'd rather check out an event that's a little less kid-centric, you might be interested in the 5th annual Oklahoma Wine Walk and Brew Fest, which takes place on October 21. The festival takes place throughout the shopping district of Brookhaven Village, showcasing a variety of Oklahoma wineries, breweries and merchants. This year, there will be even more craft breweries added to the craft beer tastings! There will also be a selection of food trucks to choose from, so you can eat, drink, and dance to the live music. All the drinks, food and products will be Oklahoma made, so you can feel good about supporting local businesses while you enjoy a beautiful fall Saturday in Norman.
Downtown Norman Fall Fest
Gather up the kids and get in costume, because the Downtown Norman Fall Fest is creeping up on Friday, October 27! The fest is always free, and you can bring your kids to trick-or-treat at local businesses. Since Halloween is on a Tuesday this year, it's a great opportunity to let your kids have some Halloween fun during the weekend, when they don't have school the next morning and you know it's safe. There will be more than 20 moon bounces and rides, lots of art activities, face painting, food trucks and performances. Even your pets can get in on the fun by entering the pet costume contest, so not even Fido will feel left out. Have fun as you stroll down Main street, and don't forget to watch out for ghosts and ghouls!
Whatever you decide to do this October, just get out there and enjoy the community of Norman!