Fall Car Care and Maintenance Tips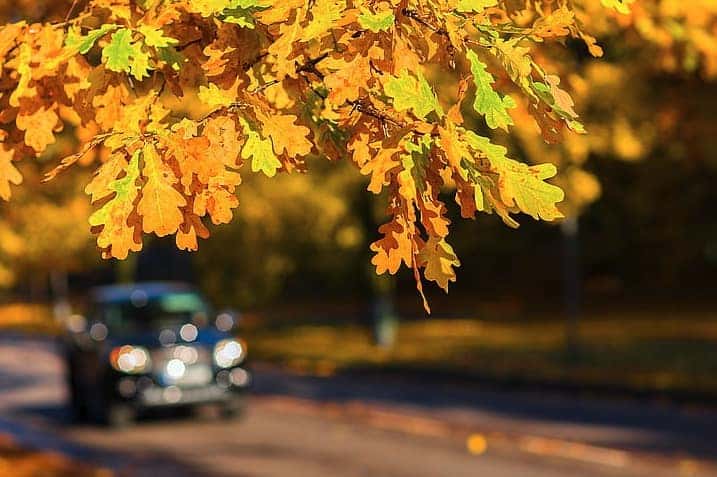 October is not only Fall Car Care Month, it's also the month when you should be thinking about all the hazards and challenges the coming fall and winter will hold for your car, the four-wheeled friend who helps get you where you want to go in style, comfort and safety. Fall and Winter road conditions often require all your vehicle's systems, from the tires on up, to be in peak condition to keep you safe. With that in mind, seen below, check out our list of fall car care tips designed to help keep your vehicle ready to take on Old Man Winter. And if you need a great-looking and reliable vehicle to see you through to the spring, stop in today at Landers CDJR of Norman for the latest Chrysler, Dodge Jeep and Ram vehicles, and our stunning selection of quality pre-owned vehicles as well. From all of us at Landers CDJR of Norman, have a safe and happy fall!

INFREQUENT USE
The Covid-19 pandemic has meant a number of challenges, including the fact that many of us are now driving less, or relying on one vehicle for our family's transportation. If you have a vehicle that you're not driving much these days, inactivity can actually harm your car's systems, including the engine, battery and tires. To help maintain battery life and keep the fluids ready for action, it's a good rule of thumb to start the vehicle at least once a week and let it idle in park for between 15-20 minutes with no accessories (including AC) on. It's even better to take the vehicle out for a short drive of 15 minutes or more every week, which can not only help keep the battery charged, but which can also help fight "flat spots" that can ruin your vehicle's tires and rust on the brake rotors. 
TIRES:
With the threat of ice, snow, rain and sleet increasing as the calendar turns toward the end of the year, you really need to make sure your tires are in tip-top condition and ready for everything. First, be sure to check the pressure of your tires, and keep them properly inflated to the pressure recommended by your vehicle's manufacturer, which is found in the owner's manual or sometimes on a sticker in the driver's door jamb. Inspect your tires for uneven wear, and go get a tire rotation if it's been awhile since your last rotation. Tread depth is also important to helping your tires keep maximum grip on slippery roads. One one-school trick is to insert a penny into your tread with Lincoln's head down. If most of Honest Abe's forehead is visible, that means your tires are probably too worn to get a good grip, especially in wet or slick conditions, and should be replaced. Need help? Landers CDJR of Norman's service center includes a full-service tire shop, featuring the name brand tires you trust, at prices comparable to big box stores.

OIL AND FILTERS
Keeping clean, properly-weighted oil in your vehicle is absolutely essential to making sure you get the most out of your vehicle, now and in the future. You definitely don't want to be broke down out in the wilds this winter, and regular oil and filter changes are one way to ensure that, while fending off repairs that could cost you thousands or leave your car in the junkyard. One thing any car owner should be able to do is check their oil to make sure there's enough in the crankcase to keep everything turning freely. Check your vehicle owner's manual on how to do this routine maintenance, and make it a habit of checking your oil every other time you fill up, and be sure to ONLY put the oil weight recommended by your vehicle's manufacturer. Need an oil change in Norman? Landers CDJR Norman offers fast, affordable service by factory-certified techs, which includes a complementary 35-point inspection of most critical parts and components, including the battery, fluids, filters, brakes, belts, hoses, headlamps and tail lamps. To schedule either regular service or no-contact Landers Direct Service where we pick up and drop off your vehicle at home, click here.

BRAKES
When it's cold, rainy, snowy or worse out, the last thing you need to be worrying about is a brake system that can't bring your vehicle to a smooth and even halt. Neglecting your brakes any time of the year is a big no-no, but it's especially risky in the fall and winter. Plus, keeping your brake pads changed on the regular is a good way to keep from having to replace more expensive components like calipers and rotors. While it usually takes a trained mechanic to properly inspect brake pads and rotors, it is possible to look for uneven wear patters on the brake discs themselves. Another thing to know about brakes: be sure to listen. If you hear a scraping or grinding sound when you apply the brakes, that that could be the built-in wear indicators on your brake pads — small metal "fingers" that scrape against the rotors — telling you it's time for a change. And yes, if you need a brake shop in Norman, Landers CDJR of Norman does brakes too, and we work on all makes and models.
WIPER BLADES:
While your wiper blades haven't been used all that much in the summer, the weather in the fall and winter can turn nasty in seconds, and that's when your safety depends on clean, good-condition wiper blades. As such, flip up your wiper blades and inspect them carefully for cracks, splits or areas where the "blade" of the rubber insert has separated from the blade. Turn the wipers on while the windshield is dry, or use the windshield washer. If the blades work smoothly, you're probably good. If they skip or "chatter," however, they may need to be replaced. Another thing to note: don't just buy aftermarket blades and install them while pitching your factory blades and wiper frames in the trash. Many modern cars have windshield wiper frames that are carefully calibrated to produce exactly the right amount of pressure on the glass for a streak-free, spot-free wipe. Thus, some modern vehicles actually reuse the factory wiper frame, with only the rubber insert replaced. Check your owner's manual for more details. 

By following these simple tips, you can be sure your vehicle is ready to take on whatever Mother Nature throws your way this winter. And if you need vehicle service in Norman, Moore or Oklahoma City, bring your car to the folks who know your vehicle better than anyone: Landers CDJR of Norman! We look forward to exceeding your expectations!