Bringing You the Best Summertime Oklahoma Day Trips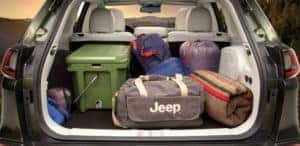 It's summertime, the kids are out of school, and you may just be looking for what to do next to keep the whole family entertained. Well, here at Landers Chrysler Dodge Jeep Ram of Norman, we've compiled a list of some of the coolest day-trips you can take in the great Sooner State. It's a great way to see more of Oklahoma, spend quality time with family, and maybe learn a little something you never knew before. So grab a bag, buckle up, and let's go!
Riversport Adventure Park–Oklahoma City
With three easy-to-access locations, Riversport Adventure Park is the ideal day-trip that has something for everyone! Superfast waterslides, kayaking, tubing, rafting, and ziplining are just some of the exhilarating activities available to try. Plus, water activities help keep you cool during these hot summer months!
Adventure Quest at Leonardo's Children's Museum–Enid
You'll never run out of things to do at Leonardo's Children's Museum in Enid! Opened in 1996, Adventure Quest took more than 12,000 volunteers working over 150,000 hours to construct this massive, magical playground for kids of all sizes. Featuring mazes, slides, bridges, swings and more, it's easy to spend a whole day exploring all that Adventure quest–and the museum–have to offer.
Great Salt Plains State Park–Jet
Made up entirely of salt leftover from ocean water that used to cover Oklahoma in prehistoric times, the Great Salt Plains are a unique and enigmatic attraction unique to the Sooner State. Here you can swim in the Great Salt Plains Lake, hike nature trails to observe some of the 300+ species of birds protected in the park, or even dig up hourglass selenite crystals which can only be found in one location in the whole world… and you guessed it–Oklahoma!
Martin Park Nature Center–Oklahoma City
Although first and foremost a park, the Martin Park Nature Center is really so much more. Martin Park Nature Center encourages nature education and exploration for visitors of all ages, offering different types of interactive learning, guided hikes, and more. With over 2.5 miles of woodland trails, you'll have a ball spending the day at Martin Park Nature Center.   
Heartland Flyer Train Ride–Oklahoma City to Fort Worth, TX
Traveling up to 79 miles per hour in Oklahoma and up to 59 miles per hour in Texas, the Heartland Flyer is Oklahoma's Amtrak train that travels from Oklahoma City to Fort Worth and back in a day. Stopping in Norman, Purcell, Pauls Valley, Ardmore, and Gainesville along the way, this day trip could easily become an as-long-as-you-like trip with all there is to see! The adventure is yours.
Need the perfect car for your next road trip? We've got a huge selection of inventory here at Landers Chrysler Dodge Jeep Ram of Norman–just click here to check it out!