Best of the Best: Fiat Chrysler Automobiles Sweeps the Competition During Award Season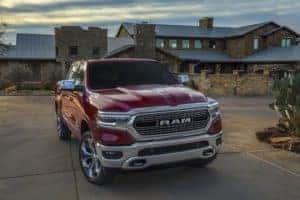 Awards season is upon us, and no — we're not talking about the Emmys, the Oscars or the Grammys. Fiat Chrysler Automobiles has won a number of different awards in the past month alone, and we here at Landers Chrysler Dodge Jeep Ram of Norman are here to highlight some of our most important wins as of late!
Ram 1500 Wins Cars.com 2019 Best Pickup Truck of the Year
Judged based on three primary categories of innovation, quality and value, the all-new Ram 1500 has just been named the Best Pickup Truck of the Year by Cars.com! PickupTrucks.com and Cars.com editors explain why the all-new Ram 1500 was the perfect truck for the award: "From the beginning, we knew this new Ram 1500 was going to be good, with its stronger frame, higher payload and towing numbers, quieter interior, hybrid engine technology and stunning 12-inch touchscreen display, but we didn't know how good until we actually got behind the wheel and put it through its paces. There's plenty of drama here with a cleaner outside look and one of the most luxurious interiors you'll find in any segment, but we especially like that this is now a stronger and safer cargo hauler delivering one of the best on-road drive experiences around."
2019 Jeep Wrangler and 2019 Ram 2500 & 3500 Earn Best Value in America Awards from Vincentric
Model-specific awards meant to determine the best customer value in each unique segment, the Vincentric Best Value in America Awards utilize statistical data that calculates the total cost of ownership for various 2019 model year vehicles. On top of the 2019 Jeep Wrangler, the 2019 Ram 2500, and the Ram 3500 each earning their own individual awards, the Ram brand was also awarded the Best Value in America Award in the Truck Brand category.
For the Second Year in a Row Cars.com Names Chrysler Pacifica the Family Car of the Year
Not only has the Chrysler Pacifica been named the Family Car of the Year by Cars.com, but it's also the second consecutive win for this fan-favorite minivan! Cars.com editors explain, "All minivans are tailored for families, but the 2019 Chrysler Pacifica takes that concept further than any other, proving to be the most comfortable, entertaining and versatile of the class. For hauling furniture, Chrysler's Stow 'n Go fold-flat seats are matchless. The optional built-in entertainment system Uconnect Theater features apps and games to keep boredom and arrival-time requests at bay. It'll even help with clean up; when snack time gets out of control, put the optional Stow 'n Vac vacuum to work. The Pacifica is the first minivan to offer a hybrid version of any kind; the Pacifica plug-in hybrid delivers an EPA-estimated electric range of up to 32 miles before reverting to an impressive estimated 30 mpg combined."
2019 Jeep Wrangler Rubicon Just Named FOUR WHEELER's 2019 SUV of the Year
One of the most capable SUVs ever made, the all-new 2019 Jeep Wrangler Rubicon recently earned FOUR WHEELER's coveted 2019 SUV of the Year Award! Undergoing a rigorous offroad test covering more than 1,000 miles of near-impossible terrain, Group Content Director for FOUR WHEELER Sean Holman concluded, "The Wrangler Rubicon is packed full of innovation and technology, fully modernizing the Jeep experience, yet capability, comfort and user-friendliness have only been improved upon. This is one of those rare instances where a company got something so right, you can have your cake and eat it, too. It is a truly modern interpretation of the Wrangler without any dilution to the formula of what a Jeep should be."
We here at Landers Chrysler Dodge Jeep Ram of Norman have some of the most well-made, highly-awarded cars in town! Click here to visit us today.