An Open Letter To My Chevrolet Trax | Landers Chrysler Dodge Jeep Ram of Norman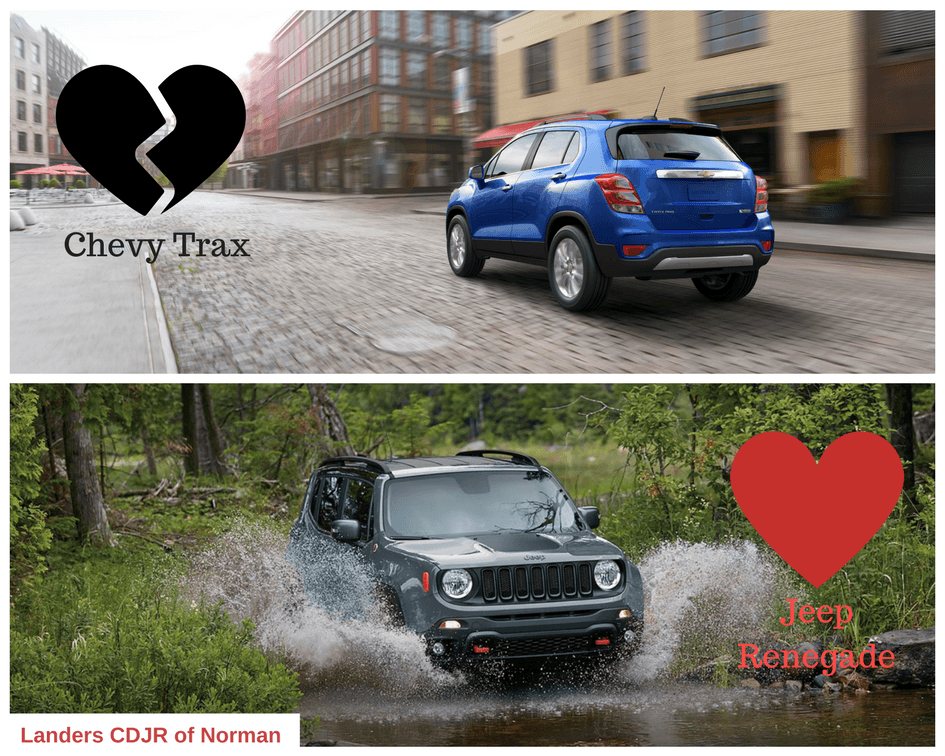 Dear Chevy Trax,
I want to start out by saying I'm sorry. When I first met you, I hoped I could love you forever—and I tried, I really did. But there's something I have to tell you… there's someone else. Its name is Jeep Renegade, and I hate to say it, but I'm in love.
It's not that you did something wrong, it's just that… maybe you didn't do enough. Before I met the Renegade, I never even looked at any other subcompact crossover SUVs. But when that courageous cutie came into my life, there was just no denying its charm. I have to admit the Renegade is incredibly attractive, but that's not the only reason it stole my heart.
You see, the Renegade takes me places I couldn't even dream of going with you. With its four-wheel-drive and traction control systems, we can venture into the unknown and really live in the moment, you know? And it's not that I never wanted to do those things with you, but you know how you get when the conditions are less-than-ideal. The Renegade always makes me feel safe, which is a pretty important quality to have, in my opinion.  
At night, sometimes the Renegade takes me out to a good spot and lets me look at the stars through its huge dual-panel open-air sunroof. I mean, how can you say no to something like that? It can even take me to the top of Hiker's HIll, and with Hill Descent Control, I know it'll get me home safely.
When my world turns cold, the Renegade wraps me in warmth with its dual-zone automatic temperature control, heated steering wheel and heated seats. When I'm feeling down, it cheers me up with my favorite music and entertainment through the Uconnect system. It has my back by reading my texts and responding for me when I'm driving, because it would never want to see me get hurt. It just gets me.
Don't get me wrong, Trax. You didn't cause that many problems in my life and my parents seemed to like you. You just didn't challenge me that much. Our relationship wasn't exciting. The Renegade is so well-mannered when it needs to be, cruising the streets like a polite little angel. But when the weekend comes, it turns into a fearless adventurer, and maybe even a little bit of a rule-breaker. What can I say? I'm just into it.
Anyway, I don't want you to mope around heartbroken over my new relationship. I'm sure you'll find someone very nice who just doesn't need the same kind of adventure in their life as I do. I know you'll be much happier without me always wishing you were different—you need someone to appreciate you for who you are. I just can't be that person anymore. I'm sorry, and I wish you the best.
Much love,
Your [Previous] Owner