A Record! Pentastar Engine Production Tops 10 Million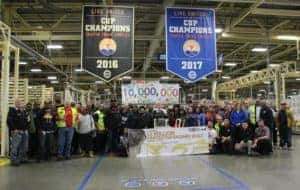 Making history, Fiat Chrysler Automobiles has officially produced over 10 million of its award-winning Pentastar engines! The Pentastar engine family was originally introduced in 2010 as a 3.6-liter V6, and now consists of six different variations that power more than half of all Fiat Chrysler Automobiles including Chrysler, Dodge, Ram and Jeep vehicles. Since its inception over nine years ago, the Pentastar family has found itself on the annual Wards 10 Best Engines list six different times! And in Canada, where the country remains subarctic for more of the year, the mighty Pentastar engine has been the best-selling engine for the last six consecutive years.
The current version of the Pentastar engine is a 3.6-liter that is most well-known for its torque-heavy performance and can currently be found in a number of different Best-in-Class fuel economy vehicles, including the ultra-efficient all-new Chrysler Pacifica Hybrid. It not only increases the available torque up to 90 pound-feet, but it also adds additional fuel-saving functionality as well. Pentastar engines standout against their competitors due to their innovative design features such as a fully-integrated exhaust manifold and eco-friendlier oil-filter cartridges that consist of paper.
Currently accounting for over half of the total engines that power Fiat Chrysler Automobiles, the Pentastar engine will be available in sixteen different models across 10 different vehicle segments with the launch of the all-new 2020 Jeep Gladiator Pickup. As Bob Lee, Head of Engine, Powertrain, Electrified Propulsion and Systems Engineering for Fiat Chrysler Automobiles North America, explains, "The Pentastar family has all the hallmarks of an enduring icon. We upped the ante among high-volume, mainstream-market, V-6 engines. And our customers won big. Pentastar engines do exactly what they were engineered to do. They deliver satisfying experiences in a wide range of driving conditions."
Learn more about the greatness of Pentastar engines at Landers Chrysler Dodge Jeep Ram of Norman! Click here to visit us today.