9 Things Every Sooner Tailgate Party Needs | Landers CDJR of Norman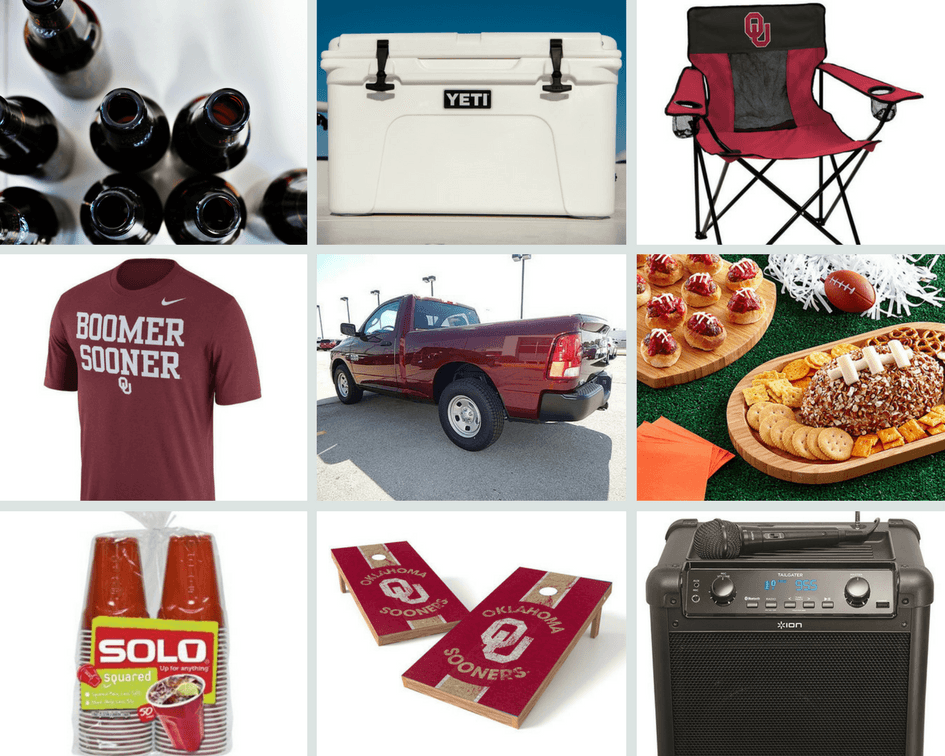 Tailgating is so much more than just a casual fall activity. It's a sacred ritual, a cherished custom, and an age-old tradition. Of course, no one does tailgating better than OU fans. Boomer Sooner all day long! We wouldn't want you to forget any of the essentials this year, so the team here at Landers CDJR of Norman came up with a list of 9 things every Sooner tailgate party needs. We'll see you there!
Beer
Because, well, obviously! No Sooner tailgate is complete without a cooler full of cold ones. It's good to get a combination of different types of beer for all the attendants, although we're sure most tailgaters would be happy with just an abundance of Coors Light, too. Be sure to include some waters and sodas though, for the youngsters and other non-drinkers.
Yeti Cooler
Speaking of ice cold beverages, you need something to keep them in and keep them cold! We love Yeti brand coolers, because they seem to be the most durable and effective. You can get them in any size (seriously, like 15 different sizes), so you can accommodate a tailgate party of two people or two hundred.
Chairs
You should probably come prepared with some chairs for people to sit around and drink beer in, especially if you're one of those high-tech tailgaters with a TV to watch the game on from your base. Don't get crazy though, fold-up chairs are fine!
OU Swag
If you're not decked out in your team's gear, are you even really a fan? Go as crazy as you want on this one, the more Sooner Swag the better! You can get all kinds of shirts, hats, jerseys, shoes, shorts, jewelry, handbags, face paint, and a whole lot more through the OU alumni store.
Food
Food. It's just as important as the beer. Whether you're grilling out on-site, doing it pot-luck style, or just buying some easy pre-made munchies, do not forget the food. It doesn't have to be anything fancy, just as long as the people can graze!
Cups & Plates
It seems obvious, but we had to include this one because of how often people just don't think about it. You should probably load up on solo cups  and paper plates if you want to avoid finding yourself in a sticky situation. Nothing kills the mood quicker than an abundance of food with nothing to eat it on.
Games
There's nothing like a good old-fashioned lawn game at a tailgate party! Cornhole, or "tailgate toss", is always a fan favorite. It's also never a bad idea to have a football or two just to toss around.
Music
Music will really get the party going, especially when you still have a while until game time. Make sure sure you have a portable speaker of some kind to play it through, and that it's loud enough for everyone to hear!
Ram Truck
The final and most important thing you need is a Ram tailgate pickup! You can't really call it a tailgate party without a truck bed to put everything in. It's a bench, it's a bar, it's a serving table, and it's a statement. The Ram 1500 is an excellent choice because it's made to endure the rowdiest of activities, and the choice of beds can give you all the space and convenience you need.
Well, there you have it— the 9 things every sooner tailgate party needs! If you're still in need of a pickup for your tailgate party, stop by Landers Chrysler Dodge Jeep Ram of Norman to take one for a test drive. We'll even find you one that matches your swag!