Game-by-Game: Previewing OU's 2018 Football Season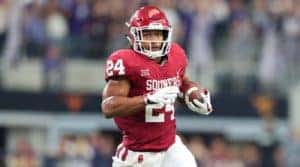 Football season is right around the corner, and excitement is building in Norman after the Sooners finished last season in the College Football Playoffs. This season, Lincoln Riley will have to find replacements for ten graduating starters, including Baker Mayfield and two other consensus All-Americans. Fortunately, he has brought in consecutive top-ten recruiting classes and has a wealth of young talent to compete for starting positions.
The offense should not have a major drop-off from last season, despite losing Mayfield and star tackle Orlando Brown. Texas A&M transfer Kyler Murray looks more than capable of leading the Sooner offense, and he will have good support from running back Rodney Anderson and receiver Marquise Brown. The defense is where the Sooners may have trouble next season, however. Last fall, Oklahoma ceded an unimpressive 5.7 yards per play, which was good for 75th place in the nation. This season, the Sooners will have to replace almost half of that defense. Much of the Sooners' success this season will hinge on the coaching staff's ability to develop young defensive players over the summer months. Without a good deal of defensive improvement from last season, it is unlikely that the Sooners can reach the same heights.
Fortunately for Oklahoma, their schedule this season gives them a good opportunity to develop at the beginning of the season at home before heading out for road games later in the season. Playing home games early on could be critical in building the confidence of a young team. That being said, let's look at the Oklahoma schedule for this fall and take a guess at how each game might play out.
September 1 – Florida Atlantic
The first game of the season should be an interesting one. When this game was scheduled a few years ago, the OU administrators probably did not forsee the Lane Train rolling into FAU and the twitter hysteria which would follow. Aside from the media attention he and his team gets, Lane Kiffin has put together a decent outfit at FAU. The Owls should be a good test for week one, but Oklahoma should have enough talent to come out on top.
Prediction: OU 52, FAU 24
September 8 – UCLA
Another big name head coach visits Norman in week two with Chip Kelly leading the Bruins into Sooner territory. In a few years, Kelly should have one of the most exciting teams in the country, but he probably won't have enough talent to outscore Oklahoma early in the season. The Sooners should take this one.
Prediction: OU 38, UCLA 24
September 15 – at Iowa State
The first road test of the season for the Sooners, and it comes against a team which had a solid 8-5 campaign in 2017. Fortunately for the Sooners, the Cyclones lost a lot of talent from last season's breakout team, and Ames isn't necessarily renown as a tough place for young players to come into. Therefore, it should be a comfortable first conference road game for Murray and the rest of the players. While it won't be a blowout, Oklahoma should comfortably take home its third win of the season.
Prediction: OU 31, Iowa State 17
September 22 – Army
Given their ability to perform in an offense that only two other schools in the FBS attempt to run, it is always a tough week when Army comes to town. The Sooners will only have a few days to scheme ways to stop Army's triple-option offense, but a vast talent gap between the two teams should be enough to give Oklahoma the victory over Army's pesky tactics.
Prediction: OU 34, Army 13
September 29 – Baylor
Baylor was bad last season. Really bad. But don't expect them to be nearly as bad this year. Head coach Matt Rhule used a plethora of young talent last season and most of it returns this season with Big 12 experience under its belt. The Baylor offense could be well on its way to the electric performance the country became acquainted with a few years ago, but it might not be quite at the point where it can compete with Oklahoma. The Sooners should give up a few points, but still capture a victory in this one.
Prediction: OU 55, Baylor 31
October 6 – Texas (in Dallas)
This is the game that all Sooner fans have circled on their calendars, and it is also likely to be Oklahoma's toughest game of the season. Unfortunately for everyone in the country not wearing burnt orange, Texas is back. With a couple of highly-ranked recruiting classes, the Longhorns have as much talent as anyone in the country and are ready to compete. However, after a few years of poor performances, they might not have the experience to live up to the potential their talent entails. This game in Dallas will be a hard-fought battle. Oklahoma will be heading into this game with a 5-0 record and they will have built up a good deal of confidence in the first half of their season. Look for Kyler Murray to have a breakout game in his home state and lead the Sooners to a close victory.
Prediction: OU 34, Texas 28
October 20 – at TCU
TCU was Oklahoma's biggest competitor for the Big 12 title last season, but they've lost a lot of talent heading into this fall. Head coach Gary Patterson is very good at player development, however, and there shouldn't be too much of a drop-off from last season's effort. The Horned Frogs will have faced a few challenges before hosting the Sooners — including a neutral site game against Ohio State and a trip to Austin — and likely will have picked up a loss or two. Those tough games will likely have matured the Horned Frogs, however, and TCU should be able to compete quite well against Oklahoma. It will be a close game, but the Sooners may lose this one on the road.
Prediction: OU 27, TCU 30
October 27 – Kansas State
Rumor has it that Kansas State head coach Bill Snyder coached dinosaurs when he was fresh out of college, and he is back for his 27th season with the Wildcats this season. His team had a strong ending to the season last fall, and it is looking to build upon that momentum this season. OU should have too much talent for the Wildcats however and should win this game at home rather comfortably.
Prediction: OU 45, Kansas State 21
November 3 – at Texas Tech
The Red Raiders always seems to have a productive offense, but this year could be different. Tech has a multitude of defensive talent returning from last season but will have to replace many skills players heading into this year. Despite this game being played on the road, Oklahoma should have good momentum heading into this game, and the young team should have come into its own by this point in the season. The Sooners get the win in this one, but it might not be quite as comfortable as they would have hoped.
Prediction: OU 28, Texas Tech 20
November 10 – Oklahoma State
Bedlam has been a hard-fought, back-and-forth game for the past few years, but this could be the year that changes. Oklahoma State is projected to have a down year, which sounds like music to the ears of Sooner fans around the state. Oklahoma should win this rivalry game easily.
Prediction: OU 52, Oklahoma State 13
November 17 – Kansas
Kansas has been the laughing stock of the Big 12 for years on end, and this year shouldn't be any different. Despite returning 20 starters from last season, the Jayhawks won't have the level of talents to compete with Oklahoma, or anyone in the upper echelon of the Big 12 for that matter. The Sooners should win this one easily in their last home game of the season.
Prediction: OU 49, Kansas 10
November 23 – at West Virginia
This is the final game of the season for the Sooners, and it comes against a West Virginia team which could be one of their main challengers for the Big 12 crown. The Mountaineers bring back one of the best air attacks in the nation, lead by All-American candidate Will Grier, so they should be able to put a lot of points on the board. The Mountaineers biggest weakness, however, is in their secondary, meaning they will give up a lot of points to teams which have good passing games like Oklahoma. This game will likely be a shootout, and West Virginia could very well come out with the victory at home.
Prediction: OU 45, West Virginia 52
If the Sooners do achieve a 10-2 record as predicted, it should be considered a successful season. Oklahoma should be the favorite in every game it plays this season, but, at the same time, likely doesn't have the talent to avoid an upset in every game. Right now, the Sooners are favorites to win the Big 12 for the fourth straight season and bring a great amount of excitement to Norman for the entire fall.
At Landers Chrysler Dodge Ram Jeep of Norman, we are proud to be official partners of the Oklahoma Sooners and wish them the best of luck this upcoming season! Boomer Sooner!