2018 Ram 1500 vs. 2018 Toyota Tundra | Landers Chrysler Dodge Jeep Ram of Norman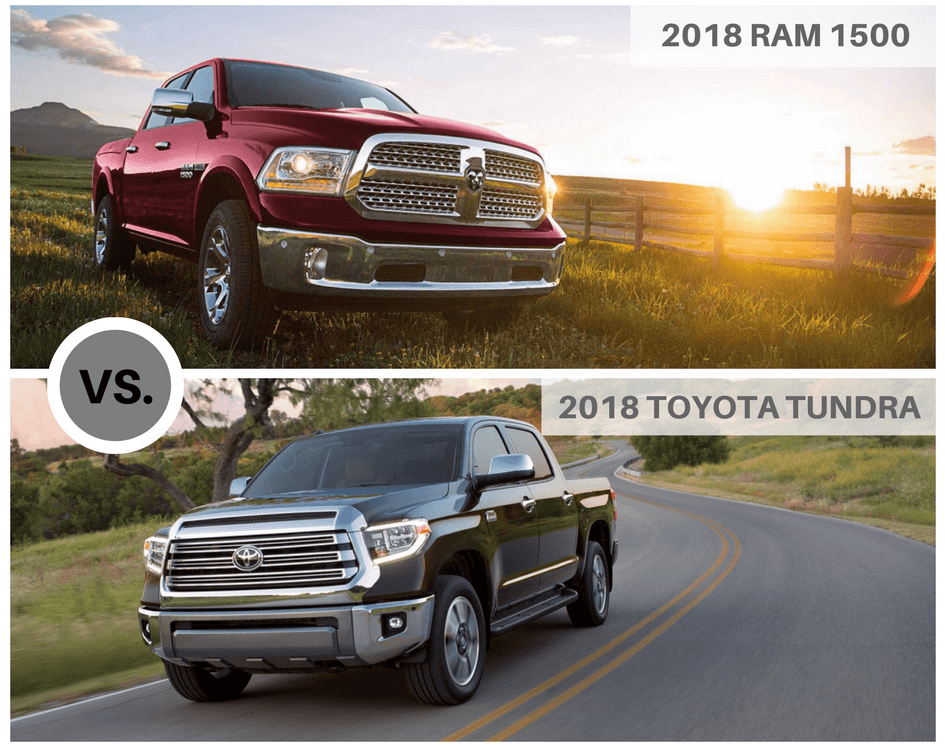 So, you've decided it's time to bite the bullet and finally buy a pickup truck. Congratulations, that's a big decision! Now it's time to think about the next big decision — which truck to go with. We understand that choosing a truck brand to commit to can be a difficult task. Brand loyalty runs deep when it comes to pickups, and it can be hard to see through all the mania sometimes. Landers Chrysler Dodge Jeep Ram of Norman is here to help. Just for you, we did a comparison of the 2018 Ram 1500 and the 2018 Toyota Tundra. Take a look at what we found, and maybe we can help give you some clarity about which truck you need in your life.
Performance & Efficiency
Between the two trucks, the 2018 Ram 1500 is more appealing from the get-go with a much lower starting price. The Ram has a starting MSRP of $27,095 while the Toyota starts out at $31,120. That's a $4,025 difference. The 2018 Ram 1500 also comes with more available engine options than the 2018 Tundra. The Ram 1500 packs a standard 305-horsepower 3.6-liter six-cylinder and a 395-horsepower 5.7-liter HEMI eight-cylinder producing 410 pound-feet of torque. The 2018 Toyota Tundra comes with a standard 310-horsepower eight-cylinder, which averages only 16 miles per gallon on the highway. It also offers an available 381-horsepower 5.7-liter eight-cylinder producing 401 pound-feet of torque. If you want more options to customize your truck's powertrain, the 2018 Ram 1500 might be the truck for you.
Comfort & Convenience
Both the 2018 Ram 1500 and the 2018 Toyota Tundra are packed with innovations that contribute to comfort and convenience, for drivers and passengers alike. You really can't go wrong with either truck in this category, so it's important to figure out which specific features are most important to you. The 2018 Ram offers standard features including a six-speaker audio system, a tilting steering wheel, and a USB input. You can also opt for a number of available options, including an 8.4-inch Uconnect infotainment system, a 115-volt household power outlet, a heated steering wheel, a 10-way power driver's seat, and power-adjustable pedals. If the truck's infotainment system is important to you, keep in mind that the Ram's Uconnect system is one of the most user-friendly systems out there.
Exterior & Safety
When you take a look at the exterior and safety features of both the 2018 Ram 1500 and the 2018 Toyota Tundra, you'll see that the 2018 Ram delivers incredible variety, strength and durability. First of all, the Ram 1500 offers nine different trim levels and multiple special edition models that you can choose from. The Tundra, on the other hand, only offers seven trim levels. The Ram 1500 has numerous external features including an aggressive design, available all-terrain tires, a locking tailgate, LED bed lighting and adjustable side mirrors. The Ram also comes with an available RamBox cargo system, a number of truck bed options and ample cargo space for more versatility when you need it.
Both the Ram 1500 and the Tundra come with a variety of safety solutions to keep you and your passengers protected on the move. Available safety features of the Ram 1500 include airbags, stability control, traction control, rearview camera, rain-sensing wipers, ParkSense parking sensors and available all-wheel drive. No matter what, you'll always know the 2018 Ram 1500 has your best interest in mind.
What do you think about the comparison of the 2018 Ram 1500 and the 2018 Toyota Tundra? It's clear to us that the Ram 1500 is the obvious winner here, pulling ahead in most every category. Whatever you decide to do, though, we hope this will give you some clarity and confidence when it comes to making your big purchase decision. If you're interested in taking the 2018 Ram 1500 out for a test drive, come see us here at Landers Chrysler Dodge Jeep Ram of Norman. In the meantime, you can browse our inventory online.
Get directions to Landers Chrysler Dodge Jeep Ram of Norman.