2018 Ram 1500 vs. 2018 GMC Sierra 1500 | Landers Chrysler Dodge Jeep Ram of Norman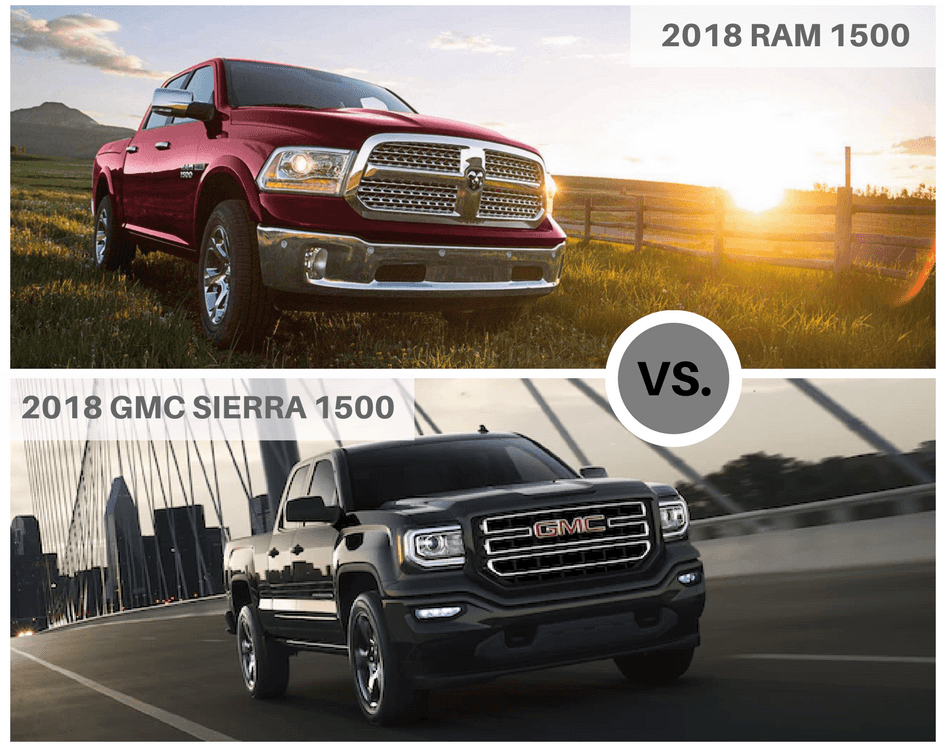 If you're in the market for a pickup truck, especially if it's your first one; deciding which truck to go with can be a difficult task. Brand loyalty runs deep when it comes to pickups, and it can be difficult to see through the mania sometimes. Landers Chrysler Dodge Jeep Ram of Norman is here to help. Just for you, we did a side-by-side comparison of the 2018 Ram 1500 and the 2018 GMC Sierra 1500. Check out what we found, and maybe we can help give you some clarity about which truck you need in your life.
Comfort & Convenience
When it comes to interior comfort, both of these trucks do pretty well. Both Ram and GMC understand that a modern-day pickup has to be about more than just working hard. The 2018 Ram 1500 and the 2018 GMC Sierra 1500 both offer a number of modern-day amenities. Those include a driver information center, 12V power outlets and auxiliary audio outputs, and available infotainment centers to manage your apps, music, navigation and more. You really start to see a difference, though, when you get up close and personal with the two infotainment systems. Overall, the Uconnect system offered for the 2018 Ram 1500 is much more intuitive and all-around easier to use.
Performance & Efficiency
When it comes to affordability and efficiency, the first thing you have to look at is the ticket price of the two trucks. The base model 2018 Ram 1500 starts at $27,095. The base model 2018 GMC Sierra 1500 starts out at $29,000. So right off the bat, you're going to be paying $2,000 less for the Ram compared to the GMC. Fuel efficiency is pretty comparable, with the Sierra besting the Ram in city mileage and the Ram coming out on top for highway mileage. So far, the Ram is still in the lead for us on this one.
Now, let's take a look at the standard engines for each truck's base model. Compared to the GMC Sierra, the Ram 1500 definitely has a power advantage. The 2018 Ram 1500 features a 3.6-liter V6 that puts out 305 horsepower, while the 2018 Sierra 1500 offers a 4.3-liter V6 that puts out 285 horsepower. Beyond that, the Ram 1500 can be equipped with a 5.7-liter V8 or a class-exclusive 3.0-liter EcoDiesel V6 that delivers both 420 pound-feet of torque and the segment's best fuel efficiency. The Sierra 1500 can be equipped with a 5.3-liter V8 or a 6.2-liter V8. All things considered, the 2018 Ram 1500 edges out the competition in both performance and efficiency.
Exterior & Safety
When you look at how they're built, the Ram 1500 and the GMC Sierra 1500 are fairly similar trucks. They have comparable curb weights and nearly the same turning radius. The main differences are going to come down to exterior styling and trim options. The Ram 1500 offers both front fog lights and halogen headlights, which the Sierra does not. When it comes to trim levels and special editions, the Ram takes the win hands down. With the 2018 Sierra, you are offered a total of four trim levels. The Ram, on the other hand, offers nine different trim levels and multiple special edition models that you can choose from. Plus, the Ram 1500 is the only truck out of the two that can be equipped with the available RamBox Cargo Management System, which gives you more cargo carrying and organization options.
In the safety department, both trucks are once again excellent choices. They both offer an Anti-Lock Brake System, multiple airbags and tire-pressure warning systems, but the Ram also comes standard with Brake Assist, which is not offered for the Sierra.
Well there you have it, folks. The facts don't lie, and the 2018 Ram 1500 clearly pulls ahead in every single category. Hopefully this will give you some clarity and confidence when it comes to making your big purchase decision. If you're interested in taking the 2018 Ram 1500 out for a test drive, come see us here at Landers Chrysler Dodge Jeep Ram of Norman. In the meantime, you can browse our inventory online.
Get directions to Landers Chrysler Dodge Jeep Ram of Norman.