2018 Dodge Challenger for Sale in Norman, Oklahoma | Landers CDJR of Norman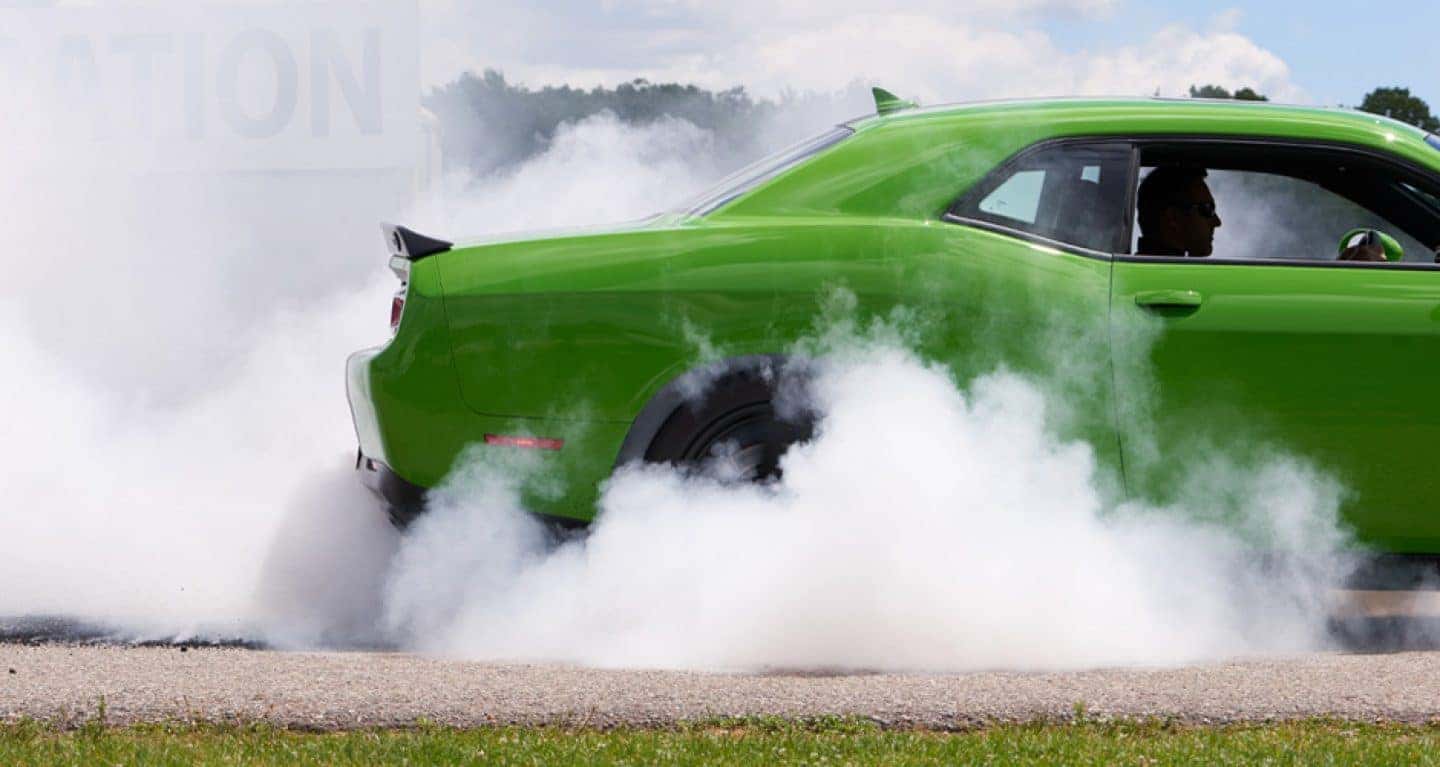 Strength. Style. So much swagger. The 2018 Dodge Challenger is both a powerful retro-style muscle car and a practical modern vehicle. It's everything you dreamed about as a kid, plus all the newfangled technologies to keep you safe and connected. From sinister speed to uncompromising control, the Dodge Challenger provides performance like no other muscle car out there—and you still get spoiled with all the contemporary comforts. You won't find a car groovier than the 2018 Challenger, so get yours at Landers Chrysler Dodge Jeep Ram in Norman, Oklahoma. At Landers CDJR of Norman, our customers come in from across the Oklahoma City metro; including Edmond, Moore, Midwest City, Yukon and Del City. Your epic adventure awaits.
Contact Landers Chrysler Dodge Jeep Ram of Norman.
Style
The 2018 Dodge Challenger is the poster car for "old-school cool". This hunk of muscle understands that retro never goes out of style, and it jaunts down the street like it just rolled out of 1971. There's something undeniably cool about the Challenger's vintage vibe, with its wide hips supporting a low-slung roof and classic split grille. The 2018 Challenger is more closely related to its predecessors from the late 1960s and early 70s in styling, so it's no wonder muscle car fanatics love the legendary look. These cars grab your attention with their sleek designs, dual rear exhaust tips and 20-inch wheels. Challenger styling can be customized with a number of additions including stripes, shaker graphics, badges and a number of color options. However you decide to customize, we have a feeling you won't be disappointed.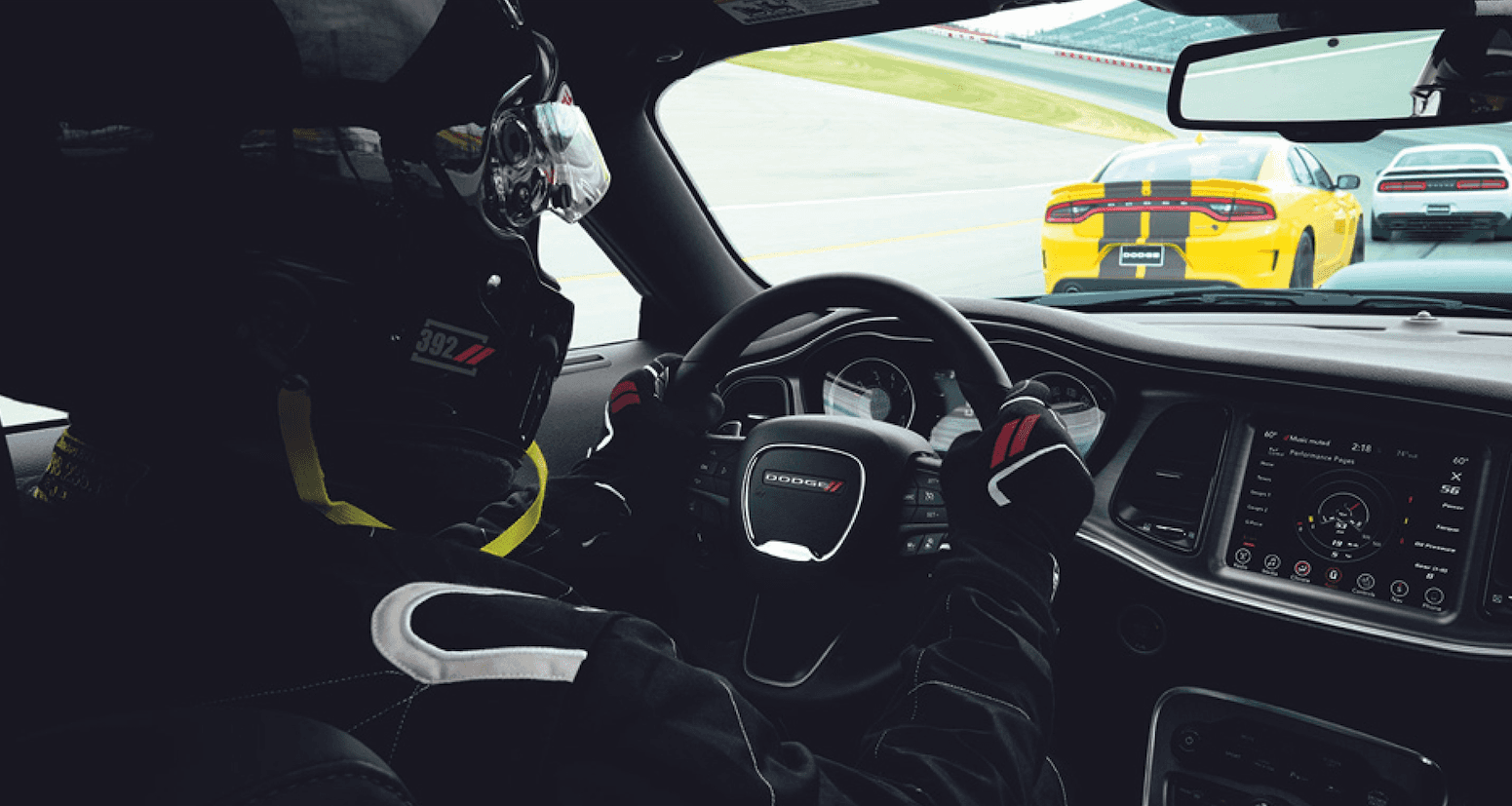 Swagger
If you're impressed by the muscular retro exterior, you'll love what you see when you climb inside the 2018 Dodge Challenger. With available houndstooth cloth upholstery and a sweeping driver-centric dash, the inside of the 2018 Challenger is very much a nod to the 1971 model year. There are some pretty significant differences though, like the state-of-the-art available 8.4-inch Uconnect control hub with 3D graphics. The 2018 Challenger is full of technology to help you stay connected with your vehicle and with the outside world. You can get your stats, 3D navigation, play your favorite music and make calls hands-free. Your friends don't have to miss out on the glory of the 2018 Challenger, either! It may be a two-door coupe, but it seats up to five people with a surprising amount of space for everyone. Available ventilated front seats and a huge trunk for all your stuff makes the Challenger perfect for everything from races to road trips.
Strength
The 2018 Dodge Challenger is surprisingly easy to handle while providing a tremendous amount of power. The ride is quiet and smooth, so the muscle car easily doubles as an everyday street car. Electric power steering allows for optimal handling and agility along with open-throttle power. All-speed traction control helps maintain traction and stability by applying brake pressure to keep your wheels from slipping and reducing engine power when the tires need to regain traction. Because of the rear-wheel-drive design and near 50/50 weight distribution, driving the Challenger is a truly thrilling experience. Weight shifts to the drive axle to boost downforce and traction during acceleration. And of course, you can get all your vehicle stats in real-time with available Dodge Performance Pages.
Safety
It has the iconic style. It has the high-performance ride. It has all the fun stuff. But that's not all it has. To back up all that style, strength and swagger, the 2018 Dodge Challenger also has a focus on passenger safety and security. Advanced driver-assist features help make sure that you stay safe and sound while you're tearing up the pavement in your 2018 Challenger. The available automatic high beams switch automatically from high- to low-beam when they detect ambient light from oncoming traffic. The available blind spot monitoring system assists you in making lane changes by alerting you when a vehicle enters one of your blind spot zones. Available adaptive cruise control lets you maintain a set distance between your vehicle and the one in front of you. If you fail to stop in time, the available forward collision warning will ready your brakes, audibly and visibly warn you, and ultimately apply the brakes if necessary. Other safety features include a rear backup camera, multiple airbags, active head restraints, tested crumple zones and a whole lot more.
Step into a time defined by muscle and brawn with the 2018 Dodge Challenger today, by heading over to Landers Chrysler Dodge Jeep Ram in Norman, Oklahoma.
Get directions to Landers CDJR of Norman.