2018 Lineup of Commercial Vehicles | Landers CDJR of Norman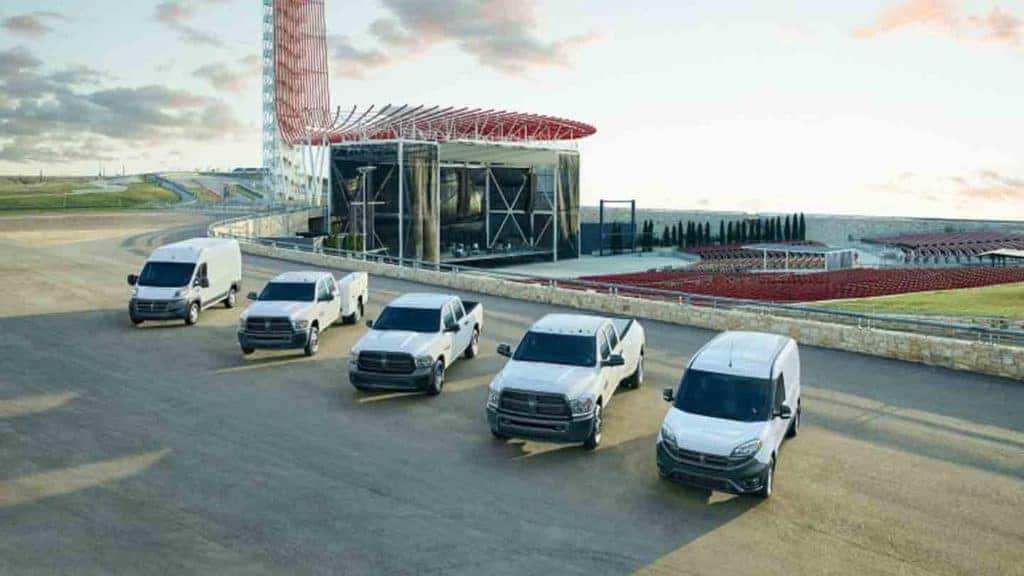 When it comes to finding that perfect work vehicle to assist you in all your business endeavors, Ram has you covered. No matter what kind of work you do, you can find a Ram vehicle that was designed for the job. From heavy duty work trucks to cargo vans to passenger wagons, there really is something for everyone. Check out the lineup of commercial vehicles below to get a better idea of which vehicle is best for you and your business.
Ram Heavy Duty Trucks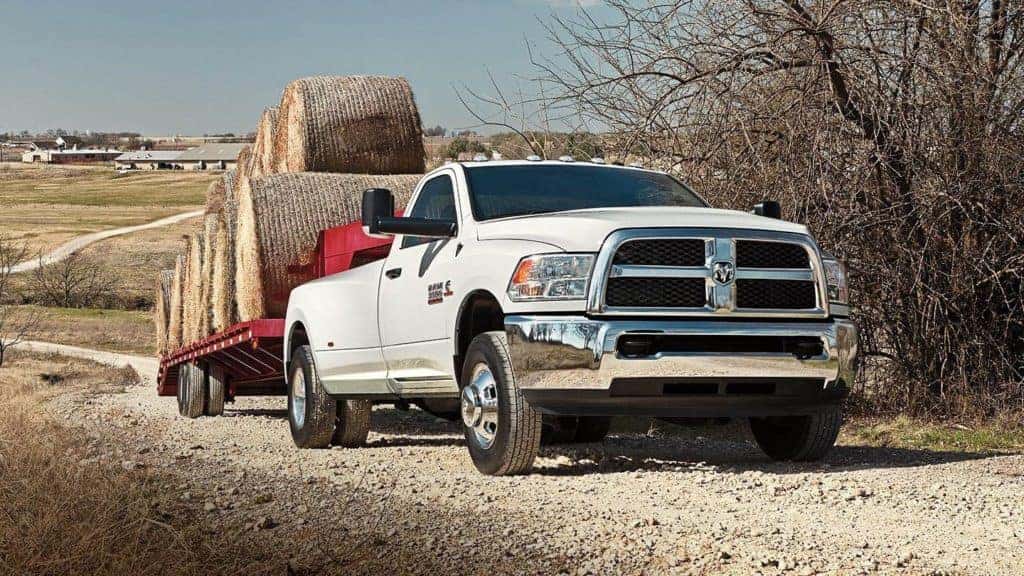 The trucks in the Ram 2018 Heavy Duty lineup are built to take on the toughest jobs. Between the Ram 1500, 2500 and 3500, you can select the truck that meets the unique needs of your operation. These trucks are designed to work harder, run smarter and haul heavier when you need it most.
The 2018 Ram 1500 has smart engineering like the available Class-Exclusive Active-Level Four-Corner Air Suspension and the standard Class-Exclusive TorqueFlite 8 eight-speed automatic transmission. This truck has a maximum gas horsepower of 395, maximum diesel torque of 420 and a max towing capacity of 10,650 pounds.
The Ram 2500 is built to build and designed to perform. The 2500 is engineered to put up heavy-duty numbers, so towing and hauling is a breeze. Specially designed features like the available rear auto-level air suspension ensure level loads and smooth rides no matter the cargo or terrain. This truck has a best-in-class horsepower of 410, max diesel torque of 800, and a max diesel towing capacity of 17,980 pounds.
The 2018 Ram 3500 is the ultimate jobsite workhorse—it just doesn't get any more powerful than this. That power blends with efficiency and multiple configurations to cater to your every need. The truck has best-in-class max diesel torque of 930, max diesel towing of 31,210 pounds and best-in-class fifth-wheel towing of 30,000 pounds.
These Heavy Duty trucks have multiple upfit options to customize according to your needs, including a snow plow, a toolbox with customizable external storage and shelving, and a service capsule for when you need a covered and secure mobile workshop.
Ram Chassis Cab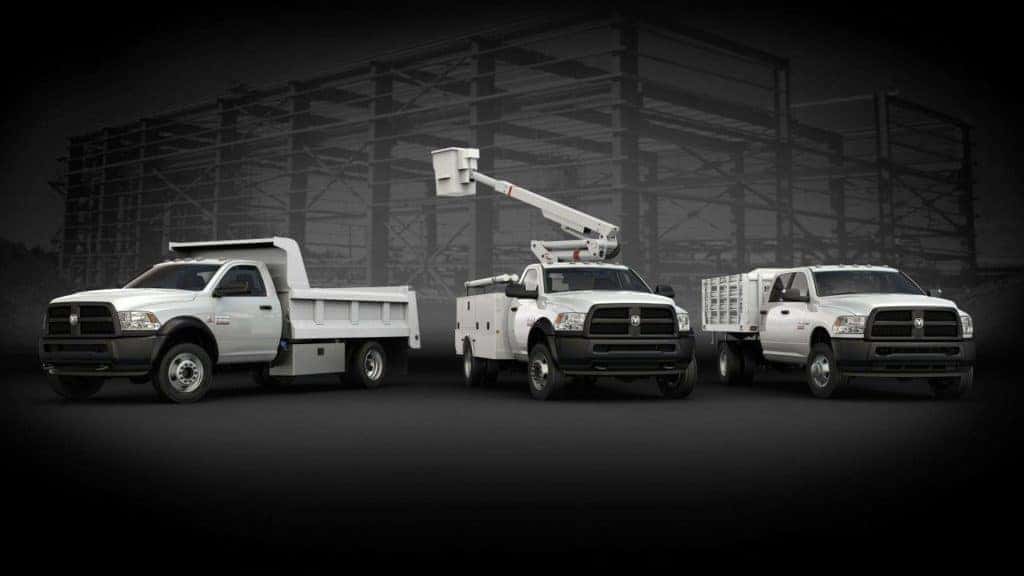 The 2018 Ram Chassis Cab is built for capability, efficiency and of course, versatility. When equipped with the available 6.7L Cummins Turbo Diesel I6 engine and max towing package, Ram 5500 Chassis cabs have the power and performance to easily handle the heaviest jobs—and we do mean heaviest. It has a maximum gross combined weight rating of up to 38,500 pounds. These cabs have available upfits for every purpose, so you can customize your chassis for every possible use. These include dump upfits for easy hauling, loading and unloading of heavy materials; box van upfits for maximum delivery capacity and ultimate security; refrigeration upfits for cooling and sub-zero storage; landscaper upfits for jobs in construction, landscaping, farming and forestry; mechanic upfits for use from municipality to heavy equipment service & repair; ambulance upfits for the most possible safety and security; and wrecker upfits for things like auto repair, emergency and highway maintenance.
Ram Promaster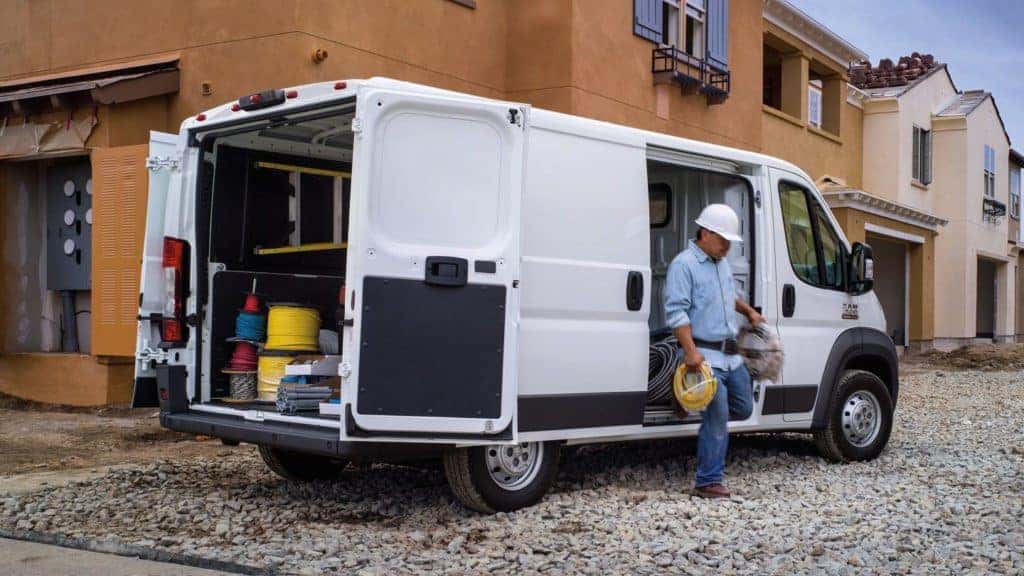 The 2018 Ram Promaster is powerful and responsive with a front-wheel-drive system that allows for impressive traction and mobility on the road. It has a best-in-class turning diameter of 36 feet, which helps the Promaster navigate crowded city streets, worksites or loading docks with ease. Body options include a cargo van, window van, chassis cab and cutaway van. The window van is all about ensuring the safety and security of your passengers, as well as using smart design features to focus on keeping lifetime costs low. The interior can be customized for anything from school buses to luxury employee transports, and the mobility upfit is all about accessibility for your passengers. The cargo van is one of the most adaptable vans on the market today with available options for everything from passengers to storage to delivery. The Trades interior upfit turns your van into a mobile workshop and warehouse; the mobile office interior upfit allows you to literally work on the road, cubicle-style; and the delivery interior upfit provides easy access and impressive performance features. The chassis cab has platform upfits and box van upfits, while the cutaway van has box van and service upfits for ample storage and protection.
Ram Promaster City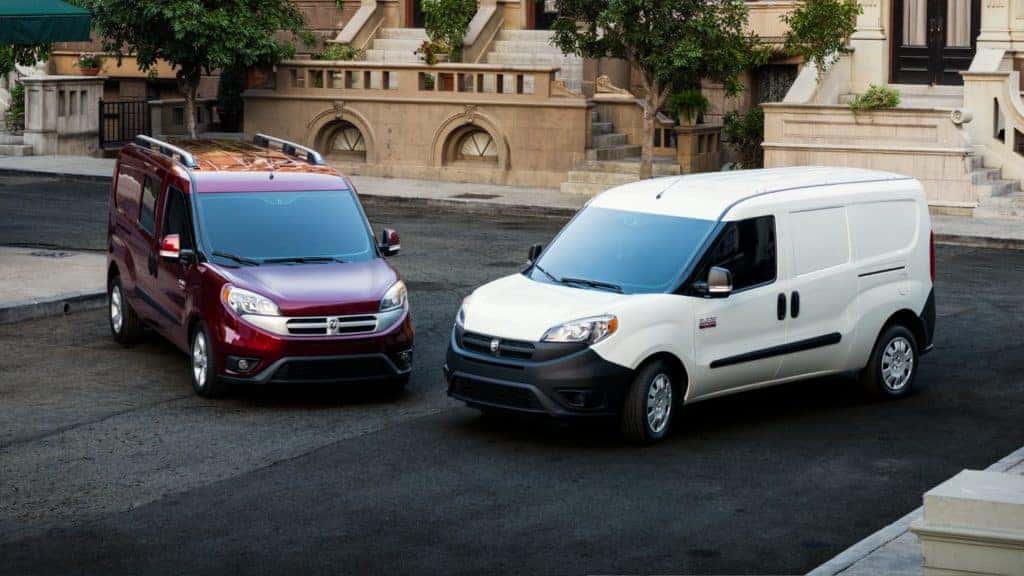 The 2018 Ram Promaster City is America's most efficient work van. It has a low cost of ownership, low maintenance costs and Best-In-Class fuel efficiency of 28 highway mpg. Whether you're transporting passengers or cargo, the Ram Promaster City delivers. You can choose between the Tradesman and Wagon configurations to suit your needs. The cargo van has a Best-in-Class cargo capacity of 131.7 cubic feet and a width between wheel wells of 48.4 inches, plus nearly vertical cargo walls and rear door trim inserts for upfit flexibility. You can get trades, delivery, and roof rack upfits for the cargo van. The Ram Promaster City Passenger Wagon allows for up to nine seating configurations with an available three-passenger 60/40 split-folding rear seat that can fold and tumble for stowage. The passenger wagon also comes with a full-length acoustic headliner and floor carpet for passenger comfort. You can also get a mobility upfit for more accessibility.
Ram's commercial vehicle lineup is second to none—and with all these options, there's absolutely no job you can't do. To inquire about a commercial vehicle for your business, contact Landers Chrysler Dodge Jeep Ram in Norman, Oklahoma.
Contact Landers CDJR of Norman.