2017 Chrysler 200: The Perfect Pick for OU College Students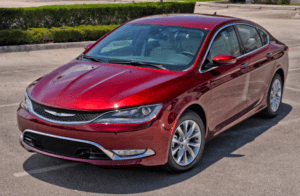 Generally speaking, we know college students have different needs when it comes to car hunting than any other demographic. You're looking for something stylish, yet affordable; fairly spacious, yet efficient. The 2017 Chrysler 200 is all these things plus some, and we think it's a fantastic choice for our neighbors attending the University of Oklahoma—Boomer Sooner! You can come test one out just down the road at Landers Chrysler Dodge Jeep Ram in Norman, Oklahoma. So, why do we think it's such a great choice? We'll break it down for you.
Practical
For college students, practicality is often the number one concern when it comes to buying a new vehicle. You're not quite established enough to afford all the fancy trims or extravagant bells and whistles, but you need something that will do its job well. Your car needs to take you from place to place without you having to worry about potential issues looming just around the corner. The 2017 Chrysler 200 is highly capable with impressive fuel economy, and it's not likely to break down on you while you're driving to visit your parents for the weekend. Inside the car, it has exceptionally comfortable and durable seating for five, so it can handle those nights out with your friends. The center console is a convenient combination of storage, functionality and high-tech connectivity. You can store all your study essentials and  jam out to your favorite tunes. What more could you ask for on a budget?
Safe
Of course, safety should always be a top priority—and it'll certainly make your parents happy. The Chrysler 200 earned excellent crash test ratings and offers a lot of leading safety technology including lane-departure warnings, forward-collision warnings, automatic braking, adaptive cruise control, and blind-spot monitors with rear cross-traffic alerts. Crash ratings were awarded by the National Highway Traffic Safety Administration and the Insurance Institute for Highway Safety, each giving the car five out of five stars. The mid-sized sedan also comes standard with front side airbags, full-length side curtain airbags and front knee airbags. That's a lot of protection. You can also opt for an optional rear backup camera for added security. The main thing you need to know is, this car is solid.
Affordable
When it comes to college students, affordability is certainly not something you can just brush over. Affordability is paramount when it comes to making a decision on a vehicle. With new models starting at just $21,995, the 2017 Chrysler 200 is a bargain for what you're getting. Compared to other cars in its class, the Chrysler 200 remains one of the most affordable while still offering a great feature package. On top of that, this car is extremely fuel-efficient. So not only do you not have to pay as much up front, but cost of ownership is overall much lower because you won't be spending nearly as much on gas as you could be with other vehicles.
Come on down to our dealership, OU students! Landers Chrysler Dodge Jeep Ram in Norman, Oklahoma is a proud partner of Sooner Athletics, so we understand what makes Sooners tick, and we're conveniently located for your convenience.
Click here to get directions to Landers CDJR of Norman