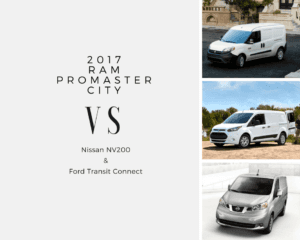 If you're looking into buying a commercial vehicle, chances are you need it to fulfill a business need, or maybe to help out with a heavy-duty hobby or household project. Whether you need it for transporting goods and services or moving people around, you probably want to do a little research first to figure out which one meets your specific needs. We at Landers CDJR of Norman, Oklahoma did some homework, comparing the Ram Promaster City to the Nissan NV200 and Ford Transit Connect. Keep reading to see how the three commercial vans compare.
Performance
In the working world, it's less about being pretty on the outside and more about get-r-done capability. You want a vehicle that can perform a duty and do it well. All three of these vehicles—The Ram Promaster City, Nissan NV200 and Ford Transit Connect—were designed to go to work and get the job done. But not every commercial van is created equal. The Nissan NV200 gets edged out of this category pretty quickly, having the smallest engine with the least amount of power. With a 2 liter engine and 131 horsepower, this van pulled the short end of the stick when it comes to performance. The Ford Transit Connect does a little better, delivering 169 horsepower. There is no comparison to the Ram Promaster City though, which has a 9-speed transmission and delivers 178 horsepower.  The Promaster City also has best-in-class fuel efficiency, even though it delivers a lot more capability. The Ram Promaster City is also the first van with front-wheel drive, making it a lot easier to complete sharp turns without issue.
Interior
Once again, the Nissan NV200 comes in last in this category. Nissan took a lot more minimalistic approach to their work vehicle, which isn't necessarily a bad thing— but when you have higher-quality competitors that also deliver more under the hood, it makes a difference. The NV200 has the cheapest looking and feeling interior with a lot of hard plastics, and the NV200 is only available as a cargo van. Unfortunately, it also has the smallest available cargo area. The Ford Transit Connect looks like a basic model of a Ford car on the inside, and has 128.6 cubic feet of storage space with the long wheelbase model. It's more comfortable to ride around in than the NV200, but still doesn't quite reach the level of the Ram Promaster City. The Promaster City has a much more modern feel to it, more upscale materials and just an all-around higher comfort level. In the Promaster City, you forget you're even in a work van.  It can be used however you need it, from a cargo-only van to a five-passenger people mover. It's also the biggest. It combines best-in-class cargo height, max cargo width and lowest floor height to deliver the best interior cargo capacity.
Features
Sometimes your work truck has to double as your office on the move, and the Ram Promaster City makes that a lot easier. The available Uconnect system offers a 5-inch full-color touch screen with voice command, hands-free calling, bluetooth, streaming audio, and even integrated steering wheel controls so you can keep your eyes on the road and your hands on the wheel. You can also get an available GPS navigation system with voice directions and map display. The cargo hold in the Promaster City is impressive, giving you a huge space with three points of entry and convenient storage options. The Nissan NV200 does implement some thoughtful storage solutions, it just doesn't make up for the lack of storage space in the vehicle; and it's definitely lacking in the tech department. The Ford Transit Connect comes much closer to the Promaster City in features, but overall the Ram Promaster City is the biggest, most capable, and most enjoyable to spend time in.
Out of the three commercial vehicles, the Ram Promaster City just has the most to offer. You'll get the best value by going with the Ram, and you can rest easy knowing you the Promaster City will go to work for you, day in and day out. If you need to purchase a commercial van, you can get a Ram Promaster City through Landers Chrysler Dodge Jeep Ram in Norman, Oklahoma.
Click here to get directions to Landers Chrysler Dodge Jeep Ram of Norman.